Moab Red Hot 50k+ (34.1 miles) - February 16, 2008

Quick Details:


Date: February 16, 2008
What: 34.1 mile trail ultramarathon
Where: Moab, UT
Weather: Sunny, cool, slight breeze
Distance: 34.1 miles
Elevation gain: 4,800' / loss: 4,500'
Technical Difficulty: Grade III, Class 1
Physical Difficulty (subjective):6 out of 10
Time: 6:16:01 (hh/mm/ss) - 65th place out of 200
Calories burned: 6600
Photo Gallery: Click Here for Photos.
Results: Official Results
Official Race Website: Moab Red Hot 50k+

Charles' trip report is HERE.

Peter Sanders and I ran the inaugural Red Hot in 2007 and we had such a good time we decided to definitely run it again in 2008. There's just something very rewarding about leaving the Colorado snow behind and heading out to the desert to run in the sun on beautiful slickrock. For the 2008 edition we rounded up about a dozen special idiots and Boulder Trail Runners, plus families, to make the trek to Utah.

My van left on Friday morning carrying myself, Susan, Michael, Fritjof Fagerlund, Todd Croke, and Yasuyo Kitano. We met the other other carloads of people at the Aarchway in (minus the late crew), where we regrouped and headed into town to pick up our race packets and then to Pasta Jays for some carbo loading. Dinner was excellent, as usual, and we all had a great time. The final car with Kristen Alvarez, Anna Pichrtova, and Denise Knutson made it safely to Moab late and we all packed up and got ready for the race.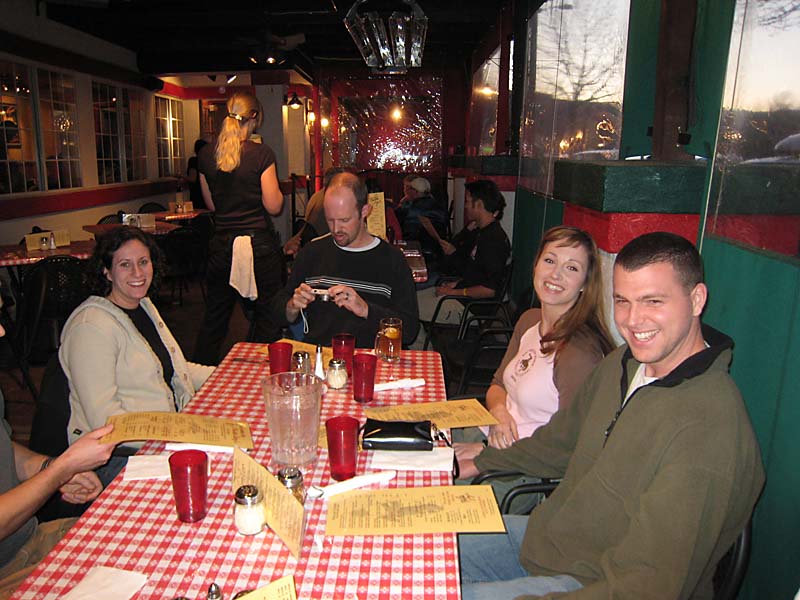 Amy and Charles Danforth, Leah and Matt Miller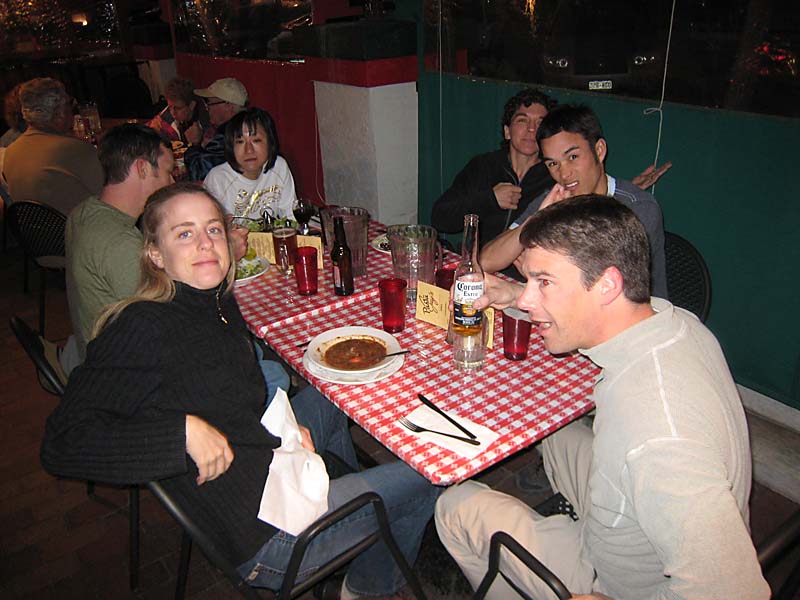 Tressa Breindel, Todd Croke, Yasuyo Kitano, Kari Fraser, Eric Lee, Peter Sanders
On race morning, Kari Fraser, Eric Lee and I got up early and shuttled all the drop bags to the start then dropped a couple of cars at the finish line. We returned to the hotel, loaded about 12 people into the van and made our way back to the start. Susan and Michael were planning to meet Amy later in the morning and do some hiking in Arches. Todd Croke joined us at the start and planned to mountain bike the course. We all gathered around the start line in the cool morning sun and waited for Chris Martinez to give the race instructions. Soon we were off and running!
Kari, Charles, and I all decided to start very slow. Our plan was to jog the flats very slow and walk all the first uphill. The theory behind this strategy was that a)we'd ease into our fat burning metabolism allowing us to run faster late in the race and b)we wouldn't go out with the people who always go out too fast and would be able to catch and pass them later. As such, the race started and all of our friends took off like jackrabbits! We stuck with our plan and started very slow.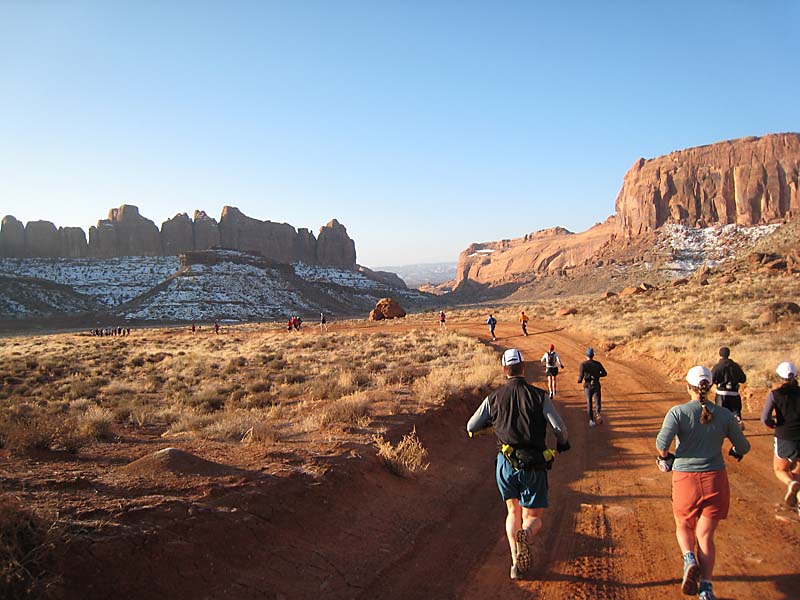 Near mile 2, along the Gemini Bridges road
The morning was perfect, cool and sunny. The first climb starts immediately and climbs for a couple of miles until it turns into a nice open canyon. The first climb was snow and ice covered since it stays shaded all day long. Soon we arrived in the sunshine and I began running a nice mellow pace though the the canyon. Near mile 4 I caught up with Denise, who was having a good day and enjoying herself. We ran together for a bit and then I decided to try to catch up to Kari, who I could see in the distance. As we approached the first aid station, Kari stopped to grab some aid and I skipped it. This allowed me to catch up to her. We ran together for a few miles and Charles then caught up to us.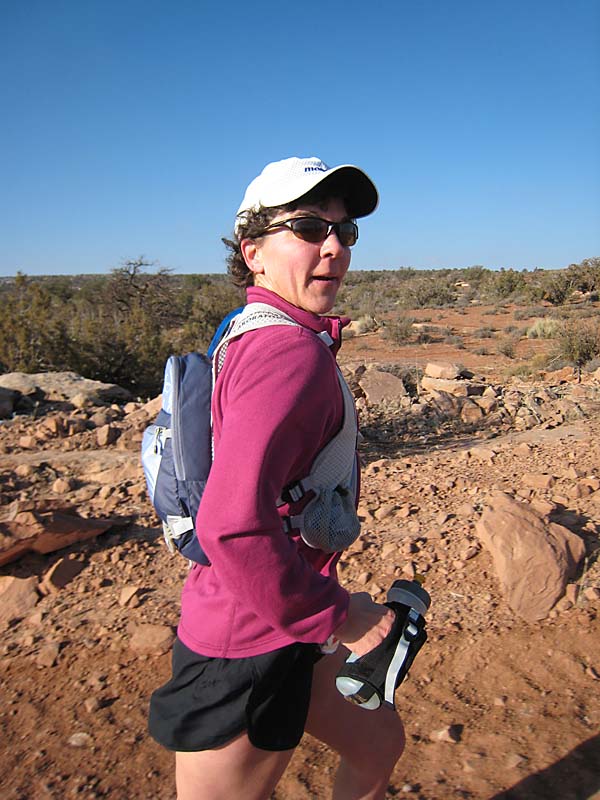 Catching up to Kari in Arth's Pasture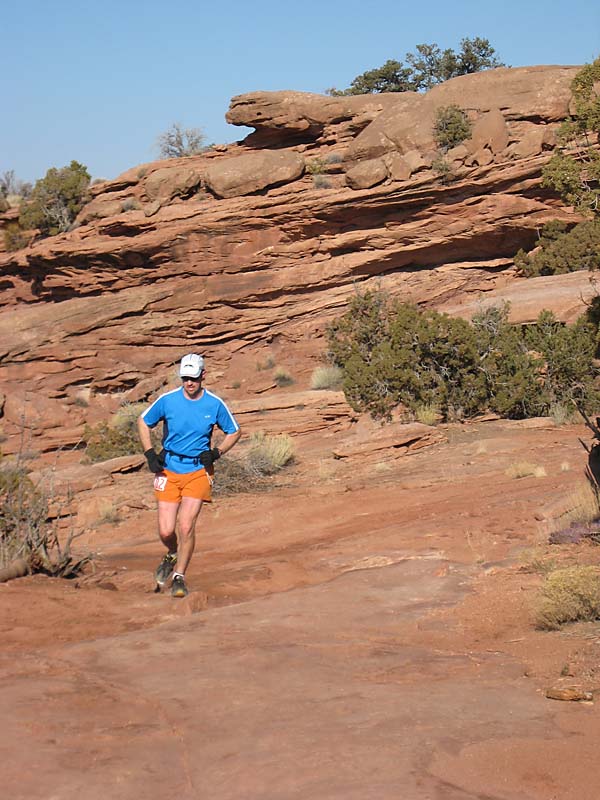 Charles approaching metal masher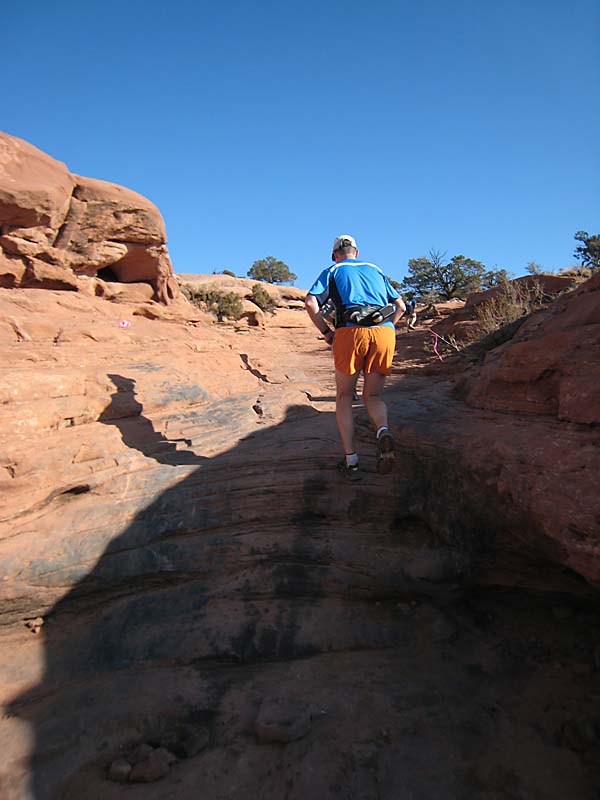 Charles in Metal Masher
For the next 10 miles are so we all ran together, which was quite fun. The climb up to Metal Masher was fun slickrock and went pretty quickly. It wasn't as painful as I remembered from last year, which I took as a good sign. Overall I felt great, though I did feel as if I might be going out a little quicker than I should. I hit the first aid station in just under one hour and my goal was to hit each subsequent aid station on the hour. This would put me at the finish at a 6 hour pace, though I knew the stretch between aid station 4 and 5 would be much longer than an hour, which would put me near my goal of 6:30.
At the top of Metal Masher we were greeted by the stunning view off the top of the Moab Rim! You could see the start line and the cars nearly 1000' below us! We stopped quickly for the obligatory photos then continued on. The trail followed this spectacular cliff for a while, then turned away and dropped towards the second aid station. Kari, Charles, and I rolled in together right at 2 hours and met Todd on his bike. He was riding the course and cheering us all on. He headed out and we refueled.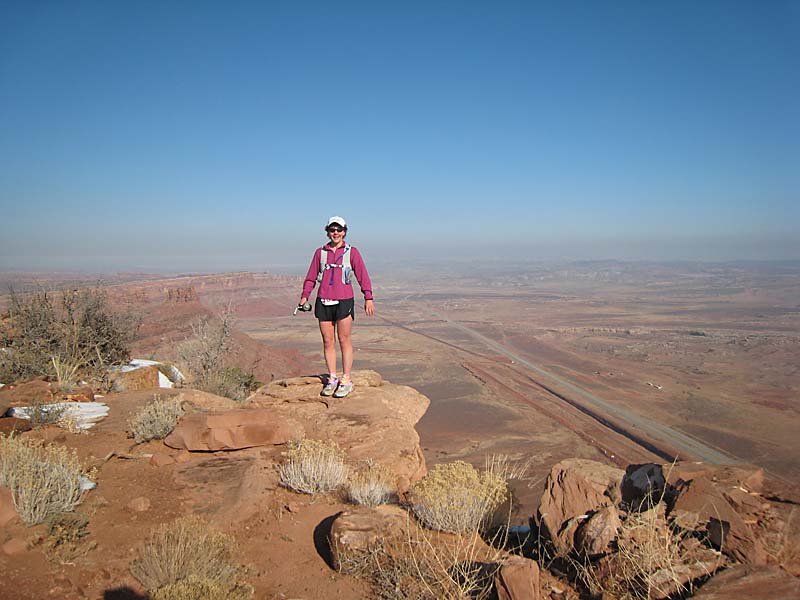 Kari on the Moab Rim. The start line is 1000' below on the dirt road.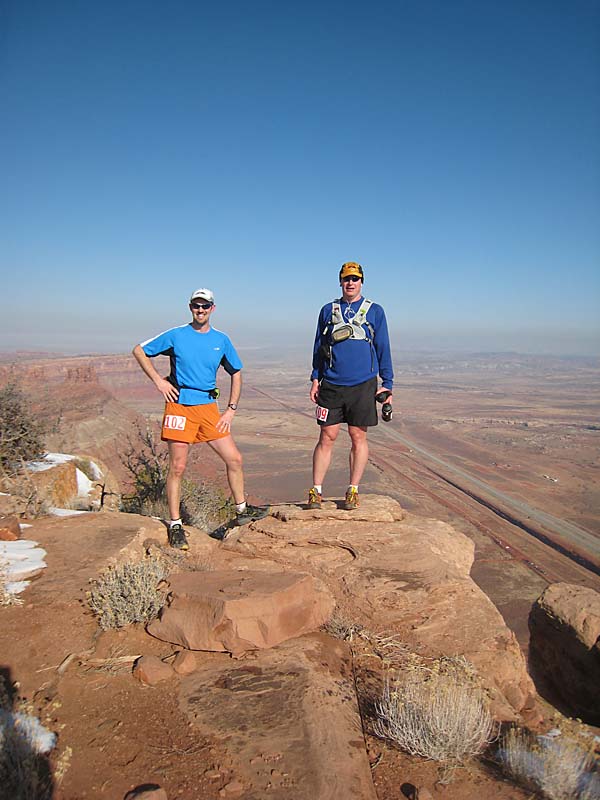 Charles and Chris on the Moab Rim

Running along the Moab Rim with a couple guys we met in the race.
We rolled out of the second aid station and began a quick 5.5 mile run through an open area called Arth's Pasture. This stretch was sandy jeep road and we were able to run it very quickly. We maintained a nice 8-8:30 pace until we came into aid station 3 at 2:50. I picked up some HammerGel, energy drink mix, and Endurolytes from my drop bag, filled up my bottles, and headed out. My good friend (and elite ultrarunner) Stephanie Ehret has been drilling into me the importance of keeping the aid stops as quick as possible... zero miles per hour really kills the average speed. With this in mind, I was in and out of aid station 3 in about 1 minute. Charles decided to put on fresh socks, so I left him, figuring he'd quickly catch up. Charles and Kari are much quicker runners than me, so I wasn't concerned.
Kari caught me very quickly and we kept a great converstational pace back down to the Gemini Bridges road. From here, the race makes a left onto the Gold Bar Rim trail. I knew this was going to be a killer climb so we kept the pace mellow and steady. After a bit we caught up to Kurt Blumberg, who tweaked his knee badly. He was walking at this point and I knew for me to catch Kurt he must be having a really bad day. We later learned he bushwhacked cross-country for about 12 miles w/o map or compass and popped out right at the finish line where he DNF'd. At the base of the climb Kari made a nature break stop and I continued on. Climbing isn't my strong point, so I decided to get a little gap on them so I wouldn't wind up too far back by the top. About halfway up the climb I passed a badly suffering Yasuyo. Yasuyo is a 3:15 marathoner, so I knew something was really wrong. She was having big problems with her IT bands and she wound up dropping at the 5th aid station. I felt great on the climb though, so I ran most of of it, coming into aid station 4 alone at 4 hours.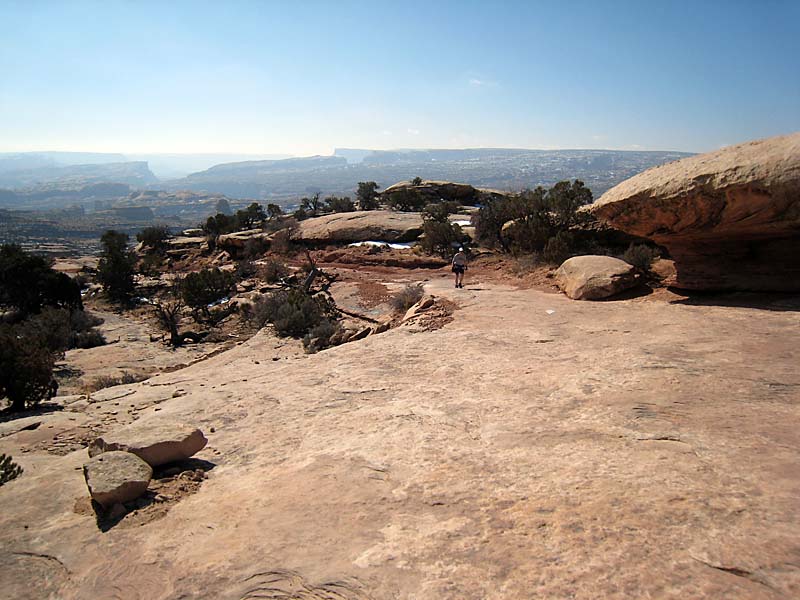 The long climb up to the Gold Bar Rim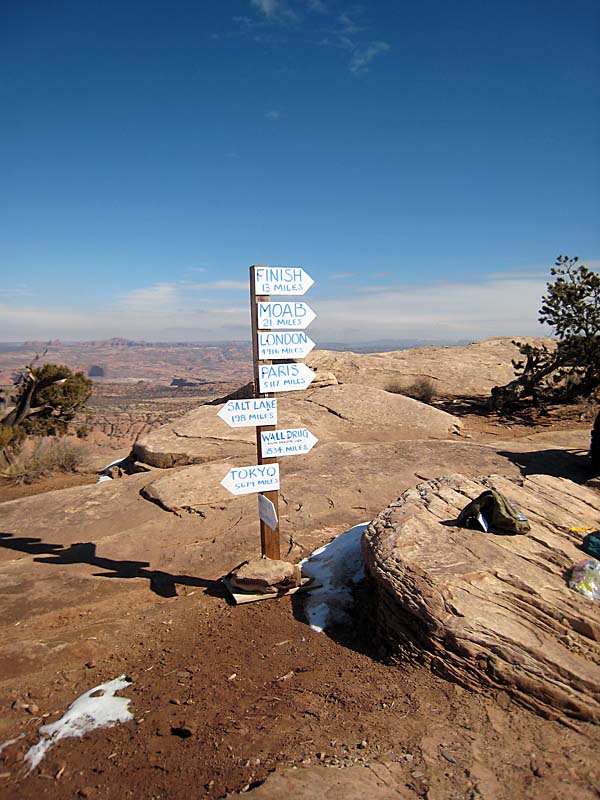 Only 13 miles to go!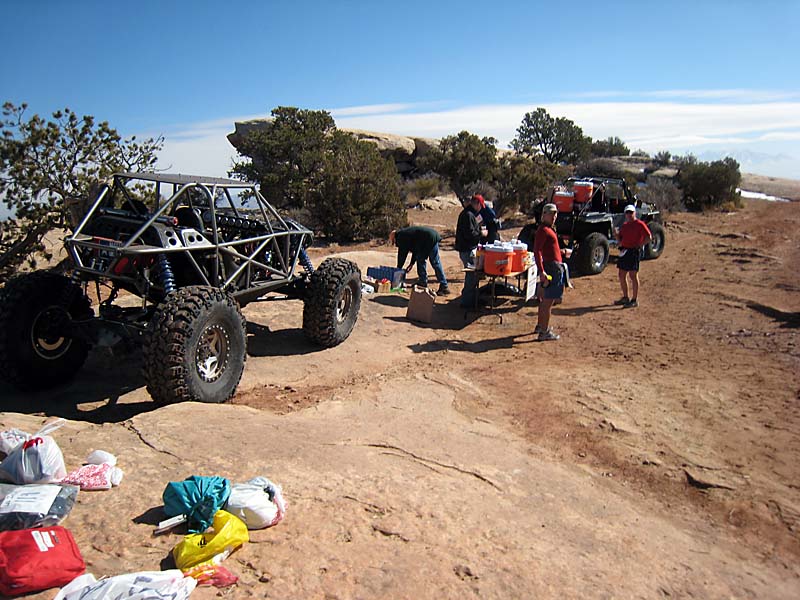 Aid Station 4
I couldn't see Kari or Charles on the climb, so I fueled up quickly and headed out for the arduous stretch between aid station 4 and 5. I was dreading this stretch because it's almost all slickrock, much of it at a steep sidehilling angle. I ran what I could and fast-walked the technical stuff. After what seemed like an eternity I finally hit the familiar rock sand dunes near the Poison Spider Mesa trail. At the top of one dune aid station 5 came into sight and I was there shortly. I grabbed a flat coke, refilled my bottles, popped some Endurolytes and headed out. At the top of the first small climb out of the aid station I turned back and saw Charles coming into the aid station. I only had about 30 seconds on him, tops, so I figured he'd probably catch me. We have a friendly rivallry that goes back to the Pikes Peak Double last summer. He always beats me in races, so I was gunning for him pretty hard today.
With the thought of being caught and passed by Charles, I made the final steep climb up to the top of the Poison Spider Mesa. The sudden flat road caused my hamstrings to start cramping badly. I popped some Endurolytes, drank some energy drink, walked a lot, and stopped to stretch out. All the time this was going on, I figured Charles and Kari would come flying by... but they never did. After a few miles my legs started to sort themselves out and I was able to start running a quick pace again. The Poison Spider Mesa Trail drops all the way to finish at the Colorado River. I knew this stretch well and ran it hard. Much of it is non-technical, though there are few very sandy sections and technical slickrock sections.
With about 3 miles to go the trail becomes completely non-technical and begins the final descent to the finish. I picked up the pace, keeping to the insides of the turns to stay out of sight of my predators breathing down my neck. The final mile of switchbacks came suddenly and and bombed down them as fast as I could manage, nearly out of control, and finished in 6:16:01. This was almost an hour faster than last year and 15 minutes ahead of my goal, so I was really thrilled. Charles came in about 2:30 later, followed by Kari another 2 minutes behind. They both had EXCELLENT races for their first ultras!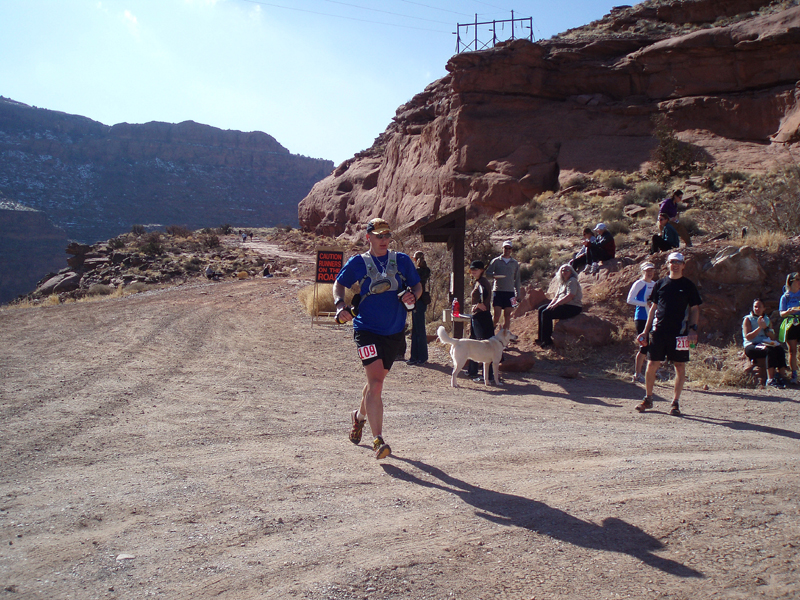 Chris finishing the Red Hot 50k in 6:16:01.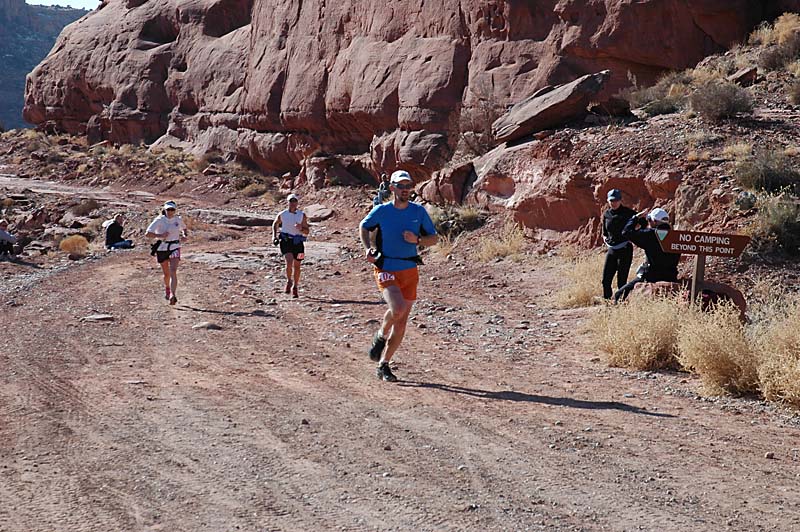 Charles sprinting to the finish for an amazing first ultra!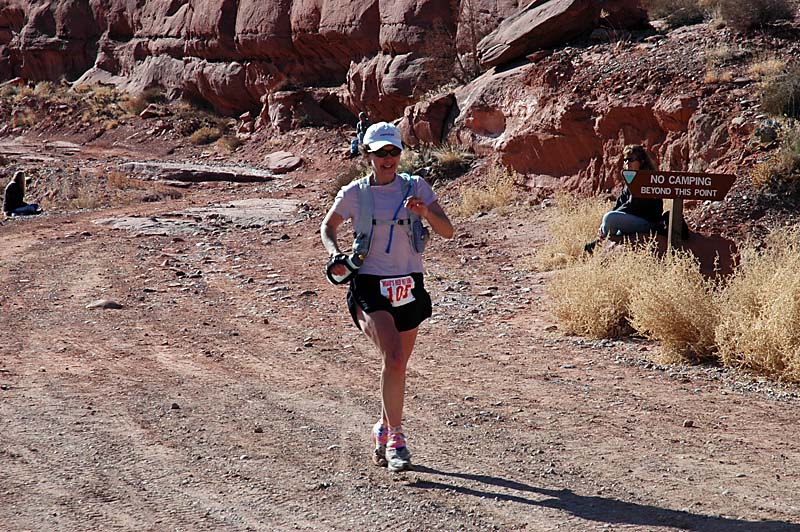 Kari coming in looking super strong and still smiling!
Everyone had great races! In the 33k, Anna placed 2nd overall in a stunning 2:37:01 (of course, she is on the Czech Olympic marathon team)! Leah had a great first trail race in 4:12! In the 55k race, Fritjof was the first out of our group in a stellar 5:12 for his first ultra! Not far behind was Eric, then Matt, then Tressa, followed seconds behind by Peter. After me, Charles, and Kari came Pete, then Denise, then Kristen. We all had a great time and plan to go back next year!
I was thrilled with the way my race went. I met all my pre-race goals:
1. Break 6:30 for a finish time
2. Start at a walking pace for the first 10 minutes (I think this paid off big as I never got passed after mile 5)
3. Minimize time in the aid stations to as little as possible
4. Have a great time.
Lessons learned this year:
1. Take the Endurolytes, even if the weather is cool. The cramping at mile 30 cost me several minutes, at least.
2. Starting slow pays big dividends later on.
3. Next year, leave cushioned shoes at aid station 4. That slickrock stretch is brutal on the lower legs and feet.
We hit up the awards dinner on Saturday and had a great time. Chris and Greg put on a really good race and I'm very glad they take the time to put this on. If you guys are reading this: Thank You! We'll be seeing you guys for the MAS50 in September!
On Sunday we got up and did a nice hike in the canyons near the Colorado river, then headed back to snowy Boulder. All in all, a great weekend!
Here's how our group fared:
33k Race:
Place
Name
City, State
Age
Sex
Time
Notes
2
Anna Pichrtova
Boulder, CO
34
F
02:37:01.50
1st Female
34
Leah Miller
Boulder, CO
34
F
04:12:30.75
First trail race!
55k Race:
Place
Name
City, State
Age
Sex
Time
Notes
22
Fritjof Fagerlund
Golden, CO
33
M
05:12:55.83
First ultra!
28
Eric Lee
Fort Collins, CO
26
M
05:22:08.20
32
Matt Miller
Boulder, CO
30
M
05:28:15.53
First ultra!
39
Tressa Breindel
Boulder, CO
29
F
05:42:15.64
41
Peter Sanders
Lafayette, CO
37
M
05:42:43.51
38 minutes quicker than last year!
65
Chris Gerber
Louisville, CO
34
M
06:16:01.39
56 min quicker than last year
67
Charles Danforth
Louisville, CO
35
M
06:18:35.46
First ultra!
75
Kari Fraser
Boulder, CO
41
F
06:21:19.81
First Ultra!
95
Pete Stevenson
Fort Collins, CO
35
M
06:48:00.02
141
Denise Knutson
Longmont, CO
36
F
08:16:53.00
First Ultra, I think
147
Kristen Alvarez
Boulder, CO
40
F
09:01:49.00
DNF
Yasuyo Kitano
Boulder, CO
F
dropped at A/S 5
ITB Injury
DNF
Kurt Blumberg
Boulder, CO
M
dropped after A/S 3
ITB/knee Injury