Moab Alpine to Slickrock 50 Mile Endurance Run, September 22, 2007

Quick Details:


Date: September 22, 2007
What: 50 mile endurance run in the LaSal Mountains, Utah
Where: Moab, UT
Weather: Sunny to partly cloudy, cool to warm, slight breeze
Distance: 50 miles
Elevation gain: 11,003' / loss: 12,000'
Technical Difficulty: Grade IV, Class 1
Physical Difficulty (subjective):9 out of 10
Time: 12:38:02 (hh/mm/ss) - 25th Place Overall
Calories burned: Thousands (forgot HRM)
Photo Gallery: Click Here for Photos.
Results: Official Results
Official Race Website: Moab Alpine to Slickrock 50

This was to be my 2nd 50 miler of 2007. It got bumped up to the top of the list after my disasterous San Juan Solstice attempt in June.

I registered for the MAS50 way back in February in case it sold out. Turns out that wasn't required since only about 40 people started the race. In my opinion, this course is more beautiful than the San Juan Solstice, which sells out almost immediately. The course is epic: it starts near the south end of the La Sal Mountain in Utah and climbs and climbs and climbs northward, all the way to the north end of the range. It then descends for about 20 miles into the Utah desert, finishing at the Slickrock Trailhead. What a great oppurtunity to see a lot of beautiful terrain! The course has 4 major climbs and a lot of rollers for 11,003' of total climbing and over 12,000' of descent.

Peter and I wound up being the only Special Idiots to do this one. Tressa had considered it but wound up running (and getting hurt) in the Run Rabbit Run 50 the week before. Eric was thinking of coming along to run a bit in the desert but was still sore from the Leadville 100. We booked a room at the Super 8 and headed out Friday morning, September 21.

The drive was beautiful and uneventful. At the first rest area inside Utah we stopped. While there, we ran into a couple who looked fit and were wearing shirts from various ultras... turns out they were headed to the race too. We arrived in Moab, checked in to the hotel, and headed to the pre-race meeting to get our numbers and leave our drop bags. While there, we ran into Charles Corfield (a BTR 5:30am regular), Joy Robertson (from our Grand Canyon R2R2R death march back in May), and our friend Sean Cunniff and his friend Ryan.

Regarding the drop bags... I decided to leave a bin at mile 17, mile 26, and mile 36. Miles 17 and 36 had spare shoes, since my achilles tendonitis was still a little bothersome. I decided to run the first 17 miles in my LaSportiva Slingshots to save weight on the big climb (4000') up Pack Creek. I'd change to my road shoes at mile 17 because they are the most forgiving on my achilles. At 36 I'd switch to my Hardrocks to negotiate the rocky desert. In hindsight, this was a poor plan. The rockiest part of the course was the middle. The desert running was all on fair to excellent jeep roads and dirt roads. I should have worn my road shoes (or even racing flats) for the last 14 miles and my Hardrocks for the middle miles. The middle part of the course was way too rocky for road shoes and my feet were quite sore after the race.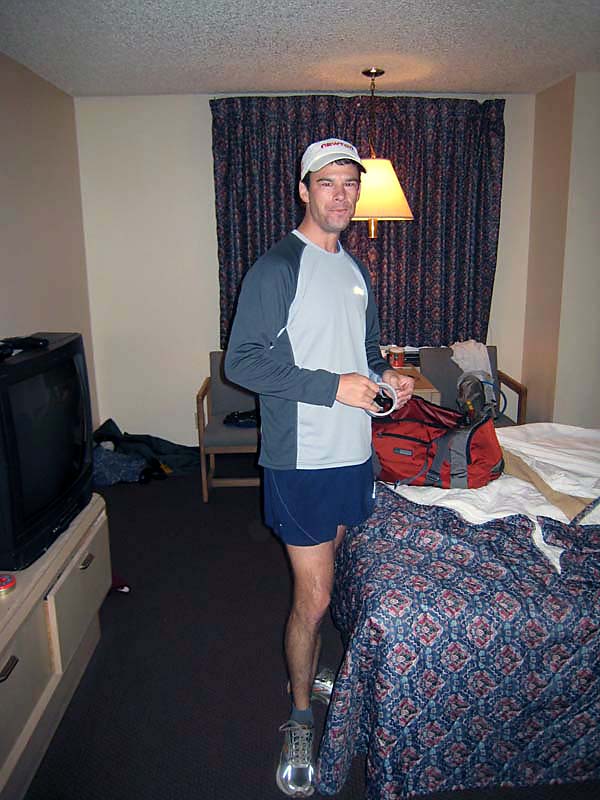 Peter getting ready to run!
Peter and I grabbed dinner at Pasta Jays (delicious!) and retired to the motel early. We set the alarm for 3:45am and went to sleep. 3:45 am comes really quickly! We got up, dressed, and headed to the Slickrock Trail. Here we boarded a shuttle bus that took us to the start. I was dead tired and dozed off a lot during the drive. Peter was talking non-stop to somebody a few spots behind me... I have no idea where he gets his energy at that hour of the day! The bus dropped us at the start and we milled about for a while waiting for the start. Ryan Cooper, who leads the BTR 5:30am runs that I do when I get up in time, was running and we ran into him at the start. He was just off a stellar 3rd American finish at the Ultra Tour du Mont Blanc! Chris Martinez lined us up in the pitch black darkness at 6am and sent us on our way.
The first climb up Pack Creek is billed as a killer! It's about 7-8 miles and 4000' of gain, starting with rocky jeep road, becoming rockier two-track, and eventually single track. For some reason this climb didn't really bother me much. Only the last few hundred yards were terribly steep. I took it very easy on the pace though, just to be safe. Sean Cunniff caught me and we chatted for several miles. I topped out on the climb right just after sunrise and was treated to an amazing view of the Canyonlands to the west!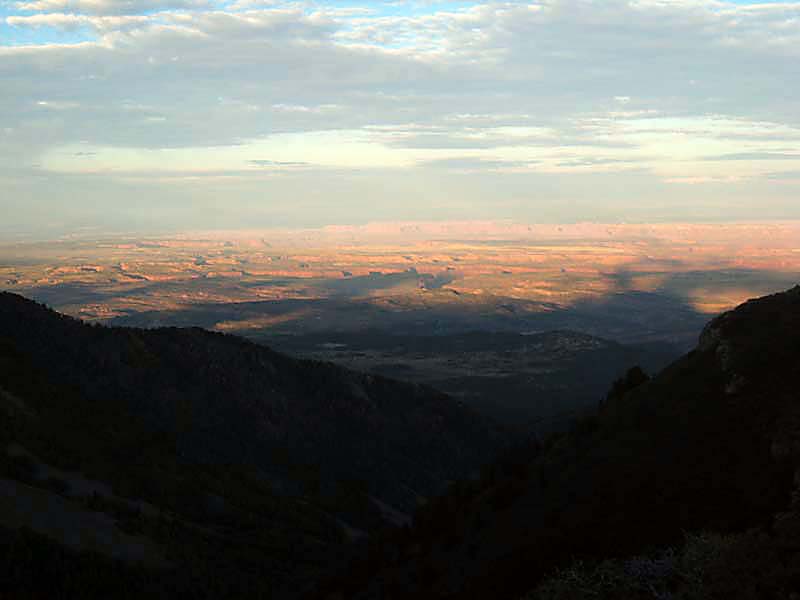 Sunrise over Canyonlands, from high in the La Sals
After the big climb, the route traversed and then dropped for several miles through aspens and meadows, eventually coming out on a steep jeep road. This road climbed for a mile or two to the first aid station. I didn't need anything at this point, so I grabbed a HammerGel and some orange slices and kept on moving. After popping out of the woods at mile 12, after a quick nature break, I ran into a really nice guy named Phil. I had no idea I'd still be running with him at mile 36! This part of the course is a LONG traverse below Mount Tukuhnikivatz. There are no major climbs, but tons of rolling terrain. Before long I arrived at the Lake Oowah Aid Station and my first shoe change. Phil rolled in a minute or two behind me. I changed shoes, stocked back up on HammerGel and Endurolytes, grabbed a full Coke for the long climb, and headed out.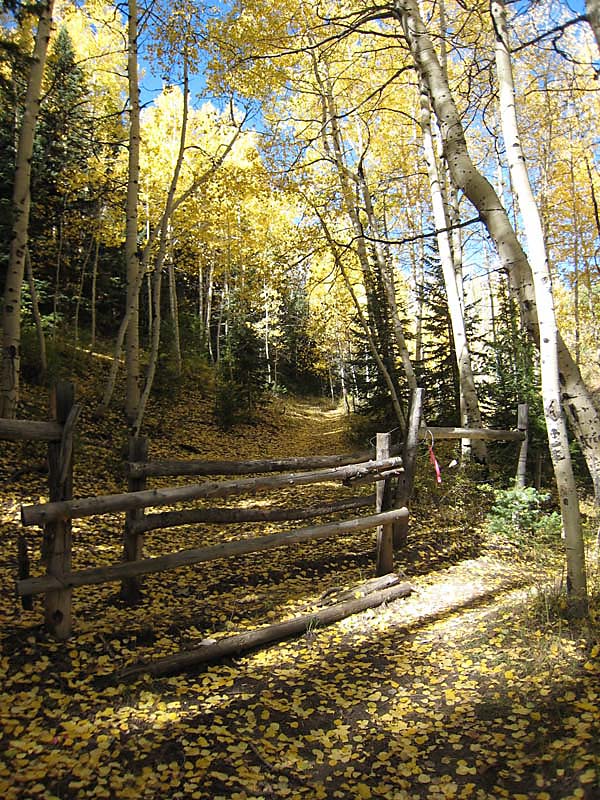 Aspens in full color, on the descent into the Oowah Lake Aid Station
The climb out of Oowah Lake is a big one! We climbed steeply for several miles, then the trail eased a bit and continued climbing steadily for many more miles through Moonlight Meadows. Moonlight Meadows is an area of high alpine meadows and aspen groves, just south of Haystack Mountain. The scenery here was stunning!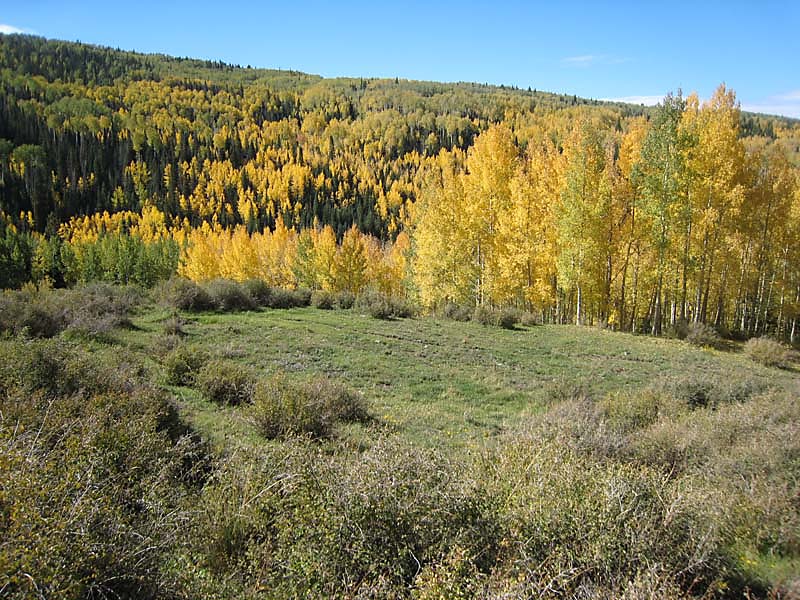 Moonlight Meadows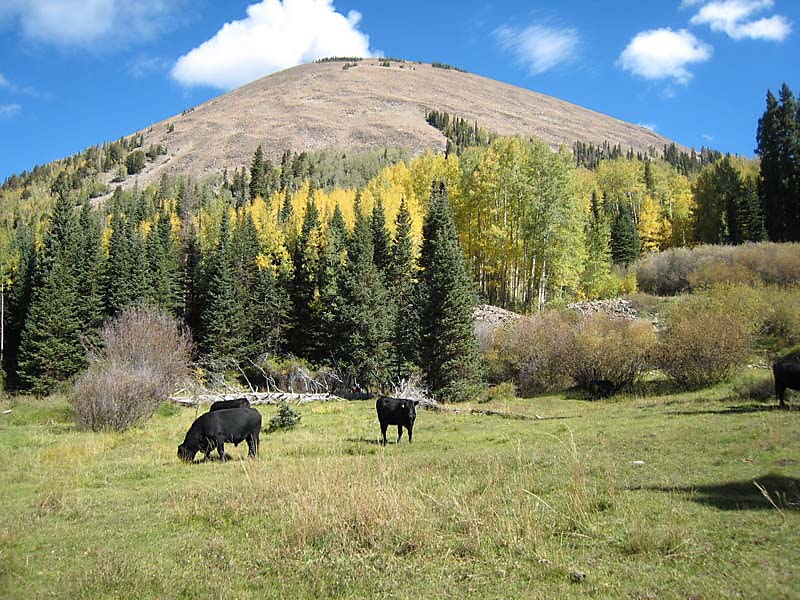 Haystack Mountain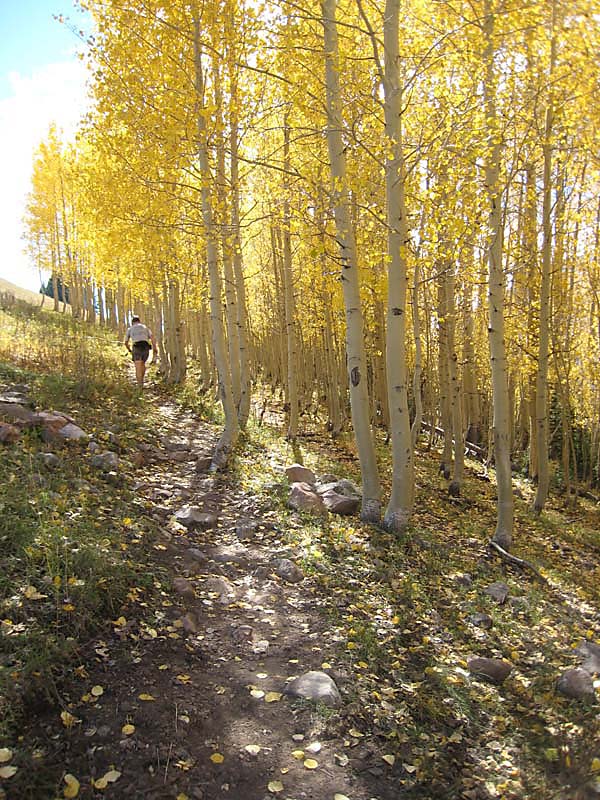 Phil running through an aspen grove, near the top of the climb.
At the top of Moonlight Meadows we cruised through another aid station and quickly descended for a mile or two to the rocky jeep road that leads to the Burro Pass Trailhead. After a mile of road we hit the trail and started the climb up to Burro Pass. Joy Robertson passed me here, looking very strong and on target to shatter her previous time here. The climb to Burro Pass is fairly steep in spots, but not terribly long.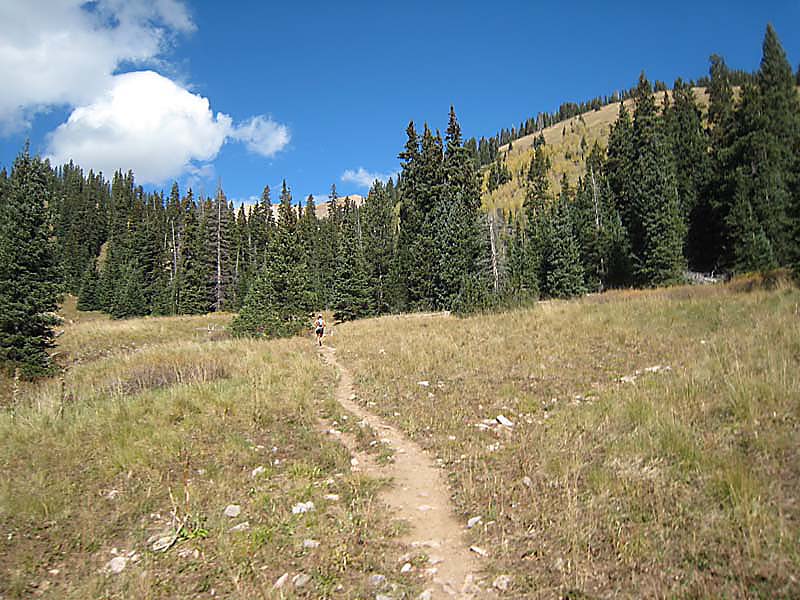 Joy Robertson looking strong on her way up Burro Pass.
The descent from Burro Pass was a steep one! I crested the pass and eased into a semi-in-control bombing descent (well, bombing for me anyway) almost all the way to the Warner Lake Aid Station. The first mile or so featured really tight, steep, and rocky switchbacks. The entire descent was very rocky, but very beautiful. I wish I could have spent more time looking around and less time looking at my footing!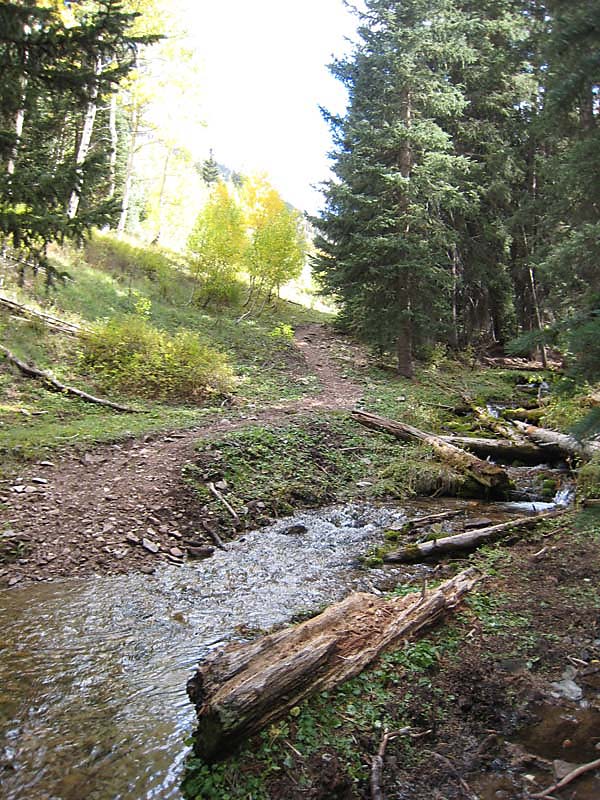 Creek crossing on the descent from Burro Pass.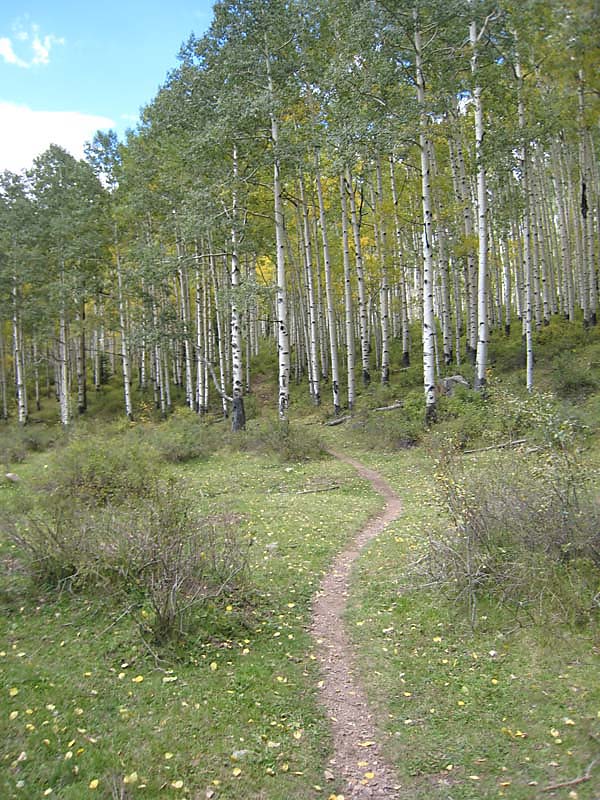 Descent into Warner Lake.
After the initial few miles, the terrain eased up and the footing improved. There were several miles of stunning aspens on the final run-in to Warner Lake Aid Station (mile 26). I was still feeling pretty good at this point. I'd been especially careful to maintain my hydration and electrolyte levels, and to eat a HammerGel every 45-60 minutes. Warner Lake is a beautiful lake tucked deep into the La Sals. The aid station volunteers were awesome.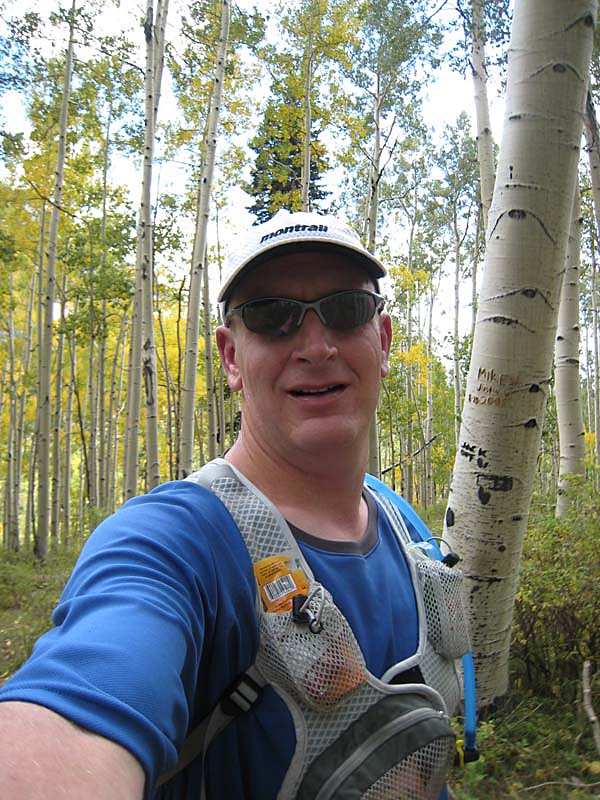 Halfway done, and still feeling good.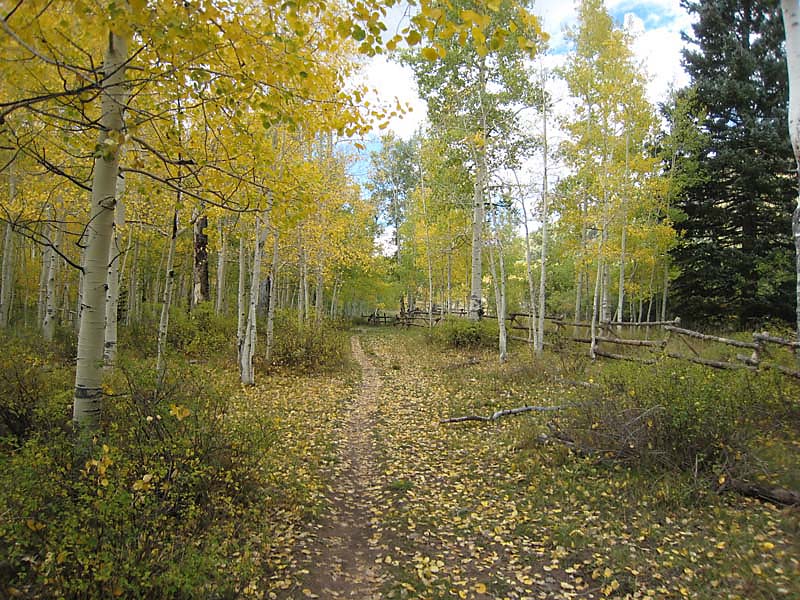 Aspens near Warner Lake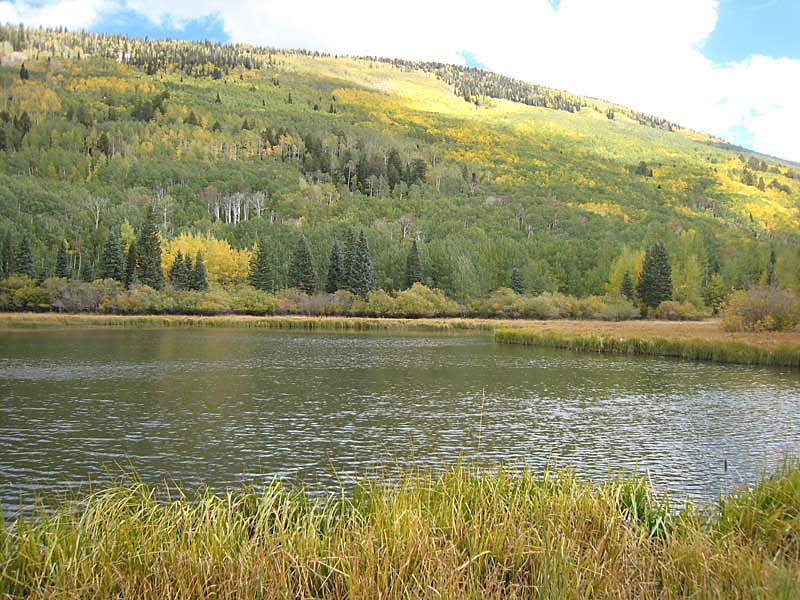 Warner Lake
After stocking back up on supplies (and really wishing I had my Hardrocks at this A/S) I headed out for the next climb. I didn't realize this was a big one... but man this was a brutal climb! The climb to Miner's Pass is probably 2000' in 3-4 miles or so. Relentless switchbacks that never seem to end. After what seemed an eternity I *finally* crested the pass and sat on a log to wait for Phil and to grab a bite to eat. He showed up shortly after and we began yet another screaming descent, this time to the much anticipated Miner's Aid Station and their cigarettes, beer, and whiskey!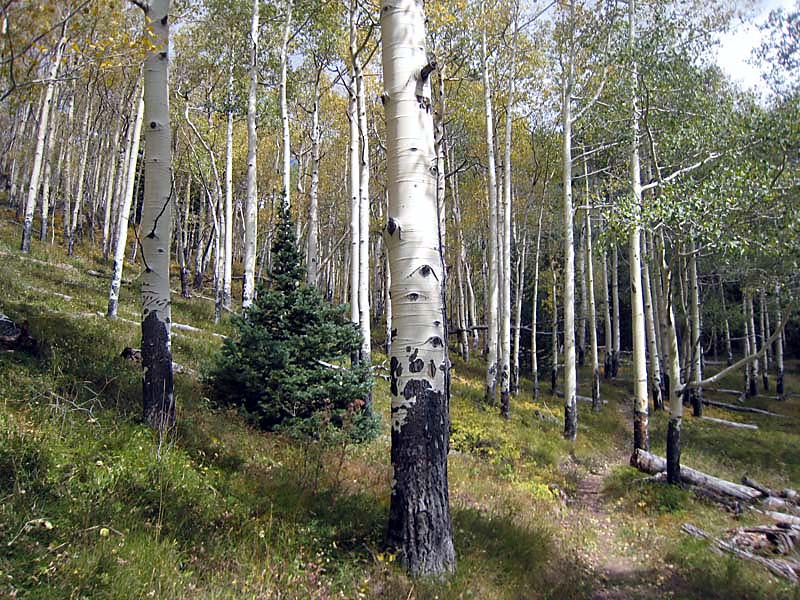 The big climb to Miner's Pass

Phil, at the top of Miner's Pass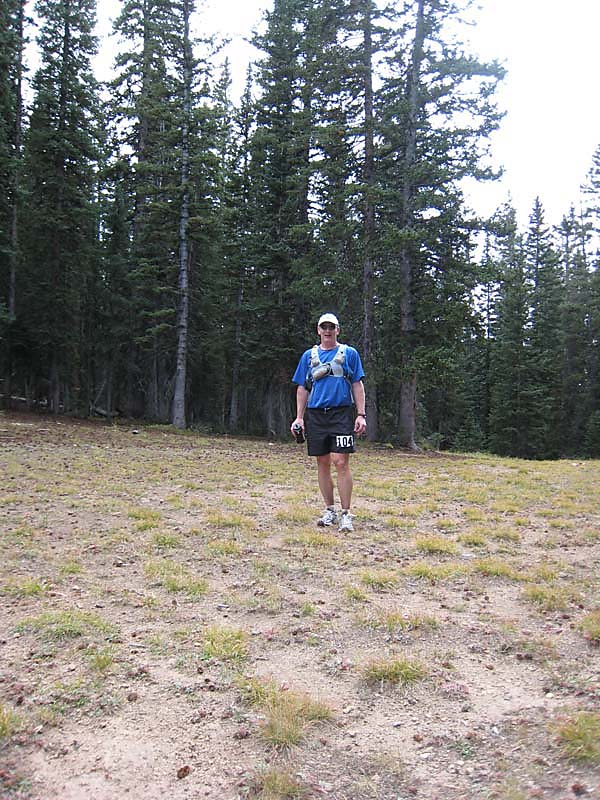 Chris, at the top of Miner's Pass
We pulled into Miner's Basin and were stocking back up on food and drink when Phil said "So has anyone taken you guys up on the beer or whiskey?". The volunteer said "Only one guy." and gestured towards the Wall of Fame (or Shame!). It was Peter...he had a PBR on his way through! Not to be outdone, I had a PBR, signed my name on the wall, and headed out...dreading the things that beer may do to my stomach! The problems never materialized though and we quickly picked our way down several miles of baby-head infested jeep road to the LaSal Loop paved road. We turned left and began another climb up to the Kokopelli Road turn-off. This climb wasn't too bad, but by this point I was quite tired of climbing!
The Kokopelli trail appeared at the top of the climb and I made a right turn...looking forward to the last 17 or so miles of bombing descent! I ran into a woman named Holly, who after a while, figured out was the same woman we met at the rest area! Small world! She was looking strong, but her boyfriend was suffering from quite a bit of GI distress, several miles back. I ran on into the Koko-Sand Flats Aid station, easily beating the final cut-off. Here I stocked up on food and fluids, changed shoes, and headed out for the final push.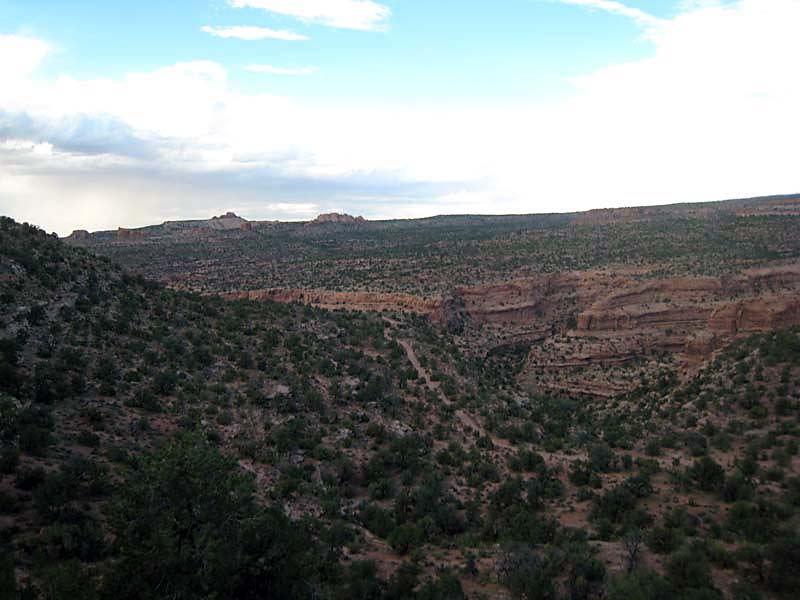 The view from the Porcupine Rim Trail
Holly and I ran together to the Porcupine Rim trail cutoff. I ran this stretch of exposed technical slickrock a little quicker and came into the final aid station at mile 42 just ahead of she and Phil. The final seven miles were all downhill on the Sand Flats Road. I started trying to do advanced math in my head, and figured that if I ran hard I could break 13 hours... far surpassing my goal of sub-14 hours. I took off at really fast pace (7-8 min per mile) for the next 4 miles at which point the road leveled off and my energy levels and speed dropped dramatically! The final three miles were a struggle, but I finally rolled into the finish with daylight to spare, in 12 hours, 38 minutes, and 2 seconds to the (somewhat surprised) cheers of Peter, Sean, and his friends.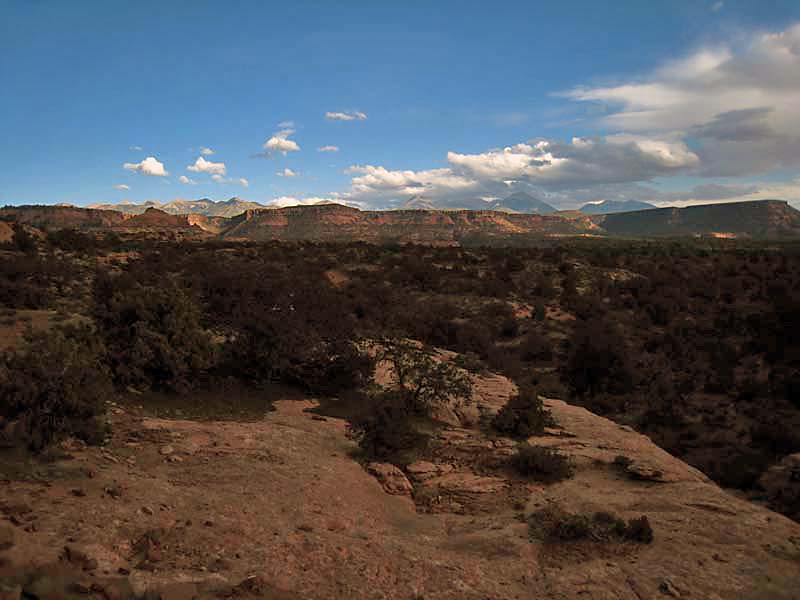 Looking back at the La Sals from mile 43. The race started at the far right side of the mountains!
Holly finished a few minutes back and Phil came in not long after that. We all drank beers, ate hot dogs and burgers, and hobbled around chatting for awhile. As we were leaving, we were happy to see Holly's boyfriend sneaking in with about 12 minutes to spare! He had gutted (pun intended) the entire course in quite a bit of pain and finished!
Peter and I headed back to Pasta Jays again for much needed calories and beer. Paul Grimm, Grey (one of the RDs), and Jody Chase joined us for dinner. We had a good time chatting and eating and finally retired to the hotel for much needed sleep! The next morning we awoke to see the La Sals coated in new snow! Talk about good timing... thankfully the race wasn't on Sunday!
This is a stellar race and I would highly recommend it to anyone looking for a challenging and scenic 50 miler. Chris Martinez is a really nice guy and puts on a great event! The course is first class and incredibly scenic, the aid stations are well stocked, and the volunteers are great! I'll be putting this one on my calendar again!