HOME > Outdoors Home > Trip Reports

Leadville Trail 100 Mile Ultramarathon - Leadville, CO - August 16-17, 2008

Quick Details:


Date: August 16-17, 2008
What: 100 mile mountain ultramarathon
Where: Leadville, CO
Weather: Rain, Sleet, Snow, Hail, Lightning, Cloudy, Sunny, Cold
Distance: 100.0 miles
Elevation gain: over 16,000'
Technical Difficulty: Grade V, Class 1
Physical Difficulty (subjective):9 out of 10
Time: 26:22:20 (45th place / 465 starters)
Calories burned: 22,643
Crew: Andy Gerber
Pacer: Kari Fraser
Black Toenails: 0
Blisters: 0
Injuries: 0
Number of my shirts my pacer peed on: 1
Hammergel Consumed: about 50
Photo Gallery: Click Here for Photos.
Results: Official Results
Official Race Website: Leadville Trail 100
The Leadville 100 was going to be my first 100 mile run. I picked it because it's close to home and it would be easy to find crew and pacers, plus several friends were doing it. The course itself didn't excite me too much as it has a lot of jeep roads and roads. I'd rather run on singletrack, but this was close and it worked out well logistically, and most importantly, it's a Hardrock 100 qualifier race.
Susan, Michael, Andy, and I left Boulder around 7pm Thursday night for the drive to Leadville. We took the van and the Civic so Susan and Andy could each have a car during the race. It would have been really hard on Michael to drag him all over the course for up to 30 hours. Andy was going to crew me out of the minivan. I had it stacked to the gills with various bins of stuff.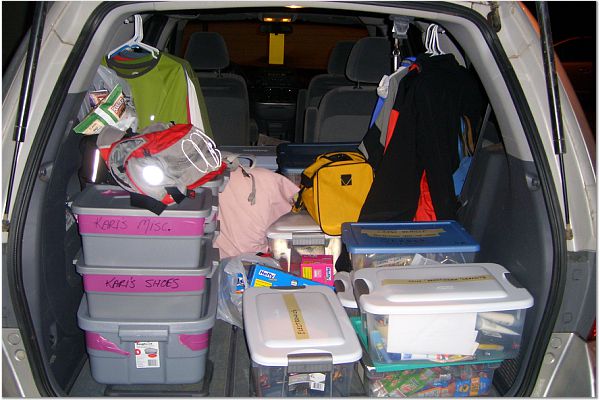 Crew van loaded down with gear. Photo by Andy Gerber.
We arrived in Leadville around 10pm and found our house. Alan had rented us a large 5 bedroom place only about 6 blocks from the start. From the online profile, it looked like a nice place. Wow, we couldn't have been more wrong. This place was FILTHY. It was the nastiest place I've ever stayed. I can't believe United Alpine Realty even has the nerve to rent this place out. Everything was dirty... filthy dirty. Urine stains on the sheets, blown out mattresses that were worthless, nasty stained pillows, dirty floors (really dirty, as in hasn't seen a vaccumm in 40 years). No blinds on the windows. Furniture that's decades worn out. Dishes in the kitchen were dirty.
The house was so bad that I slept in the van for the weekend. I'm sure this wasn't the best pre-race nights of sleep but I just couldn't bring myself to sleep in that house. Susan wound up putting the tent ground cloth on one of the beds and sleeping in her sleeping bag. Thankfully we brought a pack-n-play for Michael. I'm sure this place is insect/bed bug infested too. We washed every single thing we brought in hot water upon arriving home. This place wouldn't have been a good deal if it was free. If you're planning to visit Leadville to run, climb, etc... do yourself a HUGE favor and don't rent ANYTHING from United Alpine Realty unless you have the chance to check it out in person, in advance. Not only do they rent filthy pig sty houses, they are horrible to deal with and they have zero customer service skills. I'm a pretty easy going person and I don't complain about much... but they are truly awful. The worst lodging experience we've ever had. Interestingly enough, we've been thinking about buying property in the mountains, possibly near Leadville, in the next two or three years... so not only have they lost our lodging business, they've also lost our realty business. I'll be sure not to buy anything that this company is listing.
After the race started, Susan moved our gear to the Super 8 motel on the south end of town. We had a nice big adequate room for the rest of the race. The motel staff was pleasant and more importantly, it was clean. We basically paid double for lodging this weekend, but it was more than worth it to get out of that nasty house.
Ok, back to the race! Friday night I went to sleep around 10pm and had a fitful 5-ish hours of sleep. I woke up around 2:45am and had a huge breakfast of 5 eggs, 1/2 pound of bacon, and a bowl of apple-cinnamon amaranth. I purposefully ate the biggest meal I could, for two reason. 1. I always go out too fast. I figured all that bacon would prevent that from being an issue. 2. It was my only chance for a really big caloric intake in the next 30 hours. Turns out, that breakfast was a great idea. It worked exactly as intended.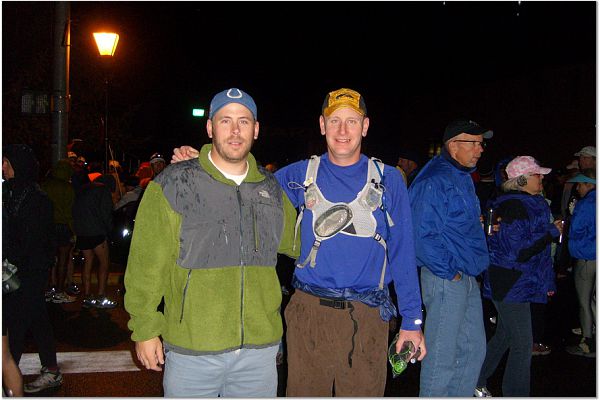 Andy and Chris at the start.
After breakfast, we headed down to the start line. It was overcast and raining lightly. I originally planned to start in a pair of nylon pants and ditch them at Mayqueen, but the temperature wasn't bad. I went ahead and started in shorts, but kept a GoLite Wisp shell, gloves, and a hat in my Nathan Pack. The plan was to go out easy and hit Mayqueen at 2:28 (Dana's 30 hour pace) and take it from there. I lined up at the very back of the pack and soon the shotgun blast signaled the start, and we were off. The advice I received ahead of time was true... people take off like this is a half marathon! I just couldn't believe how fast the field was running down 6th and the Boulevard! Alan, Michael, and I just relaxed at the very back of the pack. We walked a lot, jogged a lot, and just had a great time. Along the way I ran into Mark Sunderland, Henry Schloss, and John Prater. It was fun to run along with friends. Soon we hit the lake and the first singletrack of the day. This was a fun stretch. There was a constant line of people moving slowly by this point (since we'd set ourselves up so far back in the pack). This worked out perfect as we just jogged along easily and had a grand time. Michael, Alan, and I hit Mayqueen at 2:26 and in 241st place, right on target. At Mayqueen, my brother met me with my first gear exchange. I decided to keep my Nathan pack (and the cold weather gear in it) since the weather was pretty dismal. There was thunder in the distance and it was still quite rainy. I grabbed a couple of bottles (one water, one energy drink) and headed out for the next segment.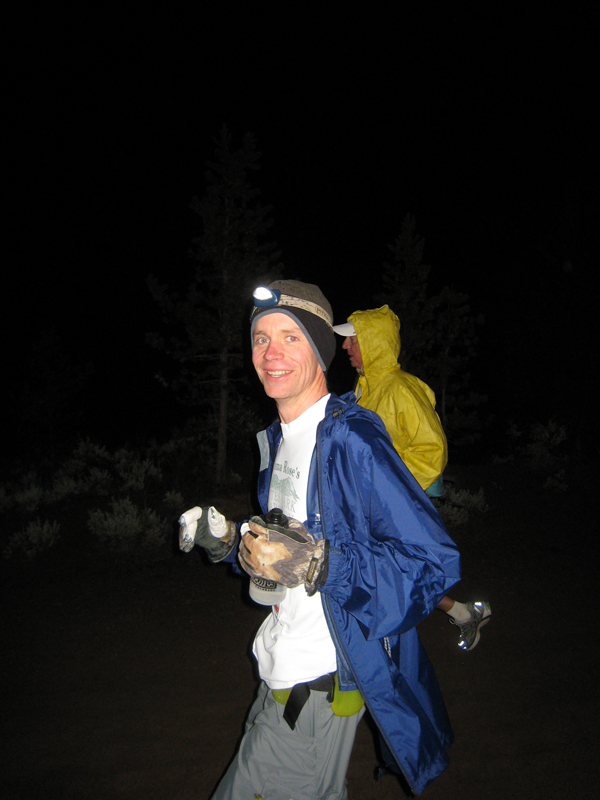 Alan running along the Boulevard.
The next stretch of the course took us up and over Sugarloaf. Climbing out of Mayqueen we ran along a nice stretch of rocky singletrack. It was beautiful in there... wet, lush, and green. I wound up in a nice group that was taking the hills at a perfect pace, but they were running the technical flats/downhills a little too slow, so I passed them and picked the pace up a bit. In the process, I left Michael and Alan behind, unintentionally. Soon I hit Hagerman Pass road and began a walk/run combination... mostly running and then walking if my heartrate got to high. My goal for the first part of the race was to keep my heartrate below 140 beats a minute. After a bit of time on the road, the course made a left onto the Sugarloaf climb. This road, as far as I can tell, is for the power company to work on their lines. After a while I caught up with Tory Wells, a 14ers.com regular. We chatted for a while and had a good time and eventually Alan caught up to us and we all climbed for a couple miles to the high point of the pass and then started the long rolling descent of the Powerline climb. The high voltage lines were buzzing in the wet weather. At this point it was raining with intermittant hail/sleet. Great conditions! About halfway down the descent one of the lines was struck by lightning and it lit up bright blue. Wow! I picked up the pace to get out of that stuff!!
Soon I hit paved road to Fish Hatchery. It's about a mile of paved road to get to the aid station. I pulled out the radio and let me brother know I was about 10-15 minutes out. He was there and ready. Not long after that, I rolled into the aid station after 4:35 elapsed time, and in 170th place. I checked in and checked out, grabbed two hand bottles from Andy and dropped my pack and headed back out on the road.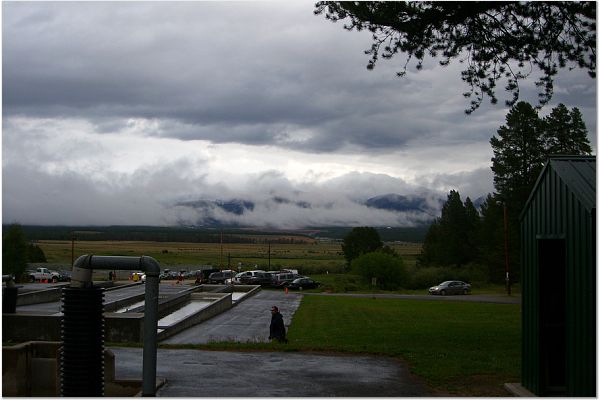 Stormy weather. Fish Hatchery aid station. Photo by Andy Gerber.
The next segment, from Fish Hatchery to Halfmoon, is all road and it's pretty boring. I was dreading this stretch because, well, it's so boring. It was raining lightly and there was a lot of lightning all about. This part is very open and very exposed, so I was a little worried about the lightning. I planned to run this segment somewhat quickly, so I only had a couple hand bottles. I'd pick my pack back up at Treeline. I ran nearly all of the segment to Treeline, only taking a few walk breaks, and arrived after about 38 minutes. Susan, Michael, Jay, and Andy were all there. I drank a glass of Nuun, swapped out my bottles for my Nathan pack, kissed Sue and Michael goodbye, and headed out. I took a baggie full of food with me and walked the road for a few minutes while I ate it. I turned on my iPod and slow ran the remainder of the road to Halfmoon, walking anytime the grade steepened or my heart rate went up to high. After another 40 minutes or so, I arrived at Halfmoon at 5:57 elapsed time, in 140th place. So far so good. I refilled my hand bottle with energy drink and headed out. I spent about 3 minutes in Halfmoon, my longest stop so far.
After Halfmoon, the road continues to climb, a bit steeper now, to the junction of the Colorado Trail. When I pre-ran the course I took the Mt Elbert trail from the trailhead parking lot, but today I realized that the actual race goes a little farther up the road and catches the Colorado Trail directly where it crosses the road. We made a left here onto the CT and began climbing. This was the second climb of the day, but it wasn't too bad. After climbing to the shoulder of Mt Elbert the trail then rolls along, up and down, for several miles. This is a really nice stretch of trail, but I wasn't feeling particulary fast here... quite the opposite actually. I walked a lot and just kept my heartrate in check and kept eating. After about 6 miles of rolling along the CT the route takes a right and begins a long quick descent into Twin Lakes. This part felt really good so I ran it pretty quickly, arriving into Twin Lakes in 8:06 elapsed and 142nd place.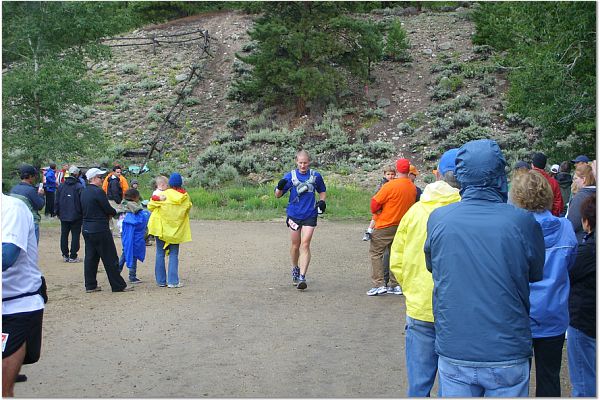 Chris coming into Twin Lakes, mile 40. Photo by Andy Gerber.
Andy met me at the aid station and we gathered up some food in a ziploc baggie. We then jogged through Twin Lakes, across the road, and to the van, which was parked along the course in the angler's lot. Here I swapped out some clothes, ate, and headed back out for the climb up Hope Pass. The weather at this point was turning sour again... it was raining and there was a lot of thunder in the distance. Andy took a few photos as I left the parking lot into the sagebrush and I was again off. The course winds through the low wetlands around upper Twin Lake, crossing a few small creeks, and finally crossing Clear Creek. Clear Creek was roped and it was about mid-thigh deep on me. It wasn't a bad crossing and the cold water felt good. I started to feel bad (slow) on the climb up Hope Pass so I just put on my jacket and took it easy. I still had the baggie of food, so I worked on eating all of that on the climb. The storm was raging pretty hard, it was hailing pea-sized hail and there was a lot of thunder and lightning. At least I was now in a deep valley, so the chances of being struck by lightning were slim. I was just hoping it would clear out before the Hopeless aid station at treeline.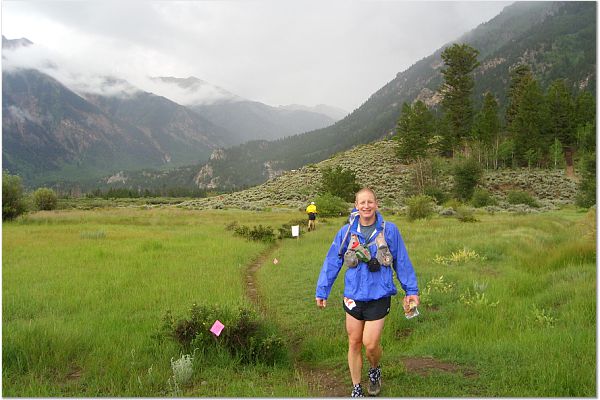 Chris leaving Twin Lakes in another storm, mile 40. Photo by Andy Gerber.
The storm eventually cleared out and soon I was at Hopeless. I stopped and quickly grabbed some soup and let a volunteer fill my bottle. (The volunteers at this race are amazing!). On the remainder of the climb to the pass I moved slow and steady, John Prater came motoring by me, then Alan Smith. I took a few photos of them as we neared the pass. I figured I'd never see John again, as he was flying on the climb! Alan was walking the first few switchbacks of the descent, so I passed him in a light run, trying to conserve my quads while still keeping a good pace. About 15-20 minutes later, on the lower slopes, Alan came FLYING by me! He yelled something about "loving this Disturbed song" on his iPod and he was gone like a flash. I hit the road and started the long walk/shuffle to Winfield. I ran into Jeff O'Reilly, who I had met the month before at Hardrock. Jeff paced Paul Grimm at Hardrock, where I was pacing Terry Gebhardt, and so we got to spend some time running together there on the climb up Engineer Pass. I rolled into Winfield in 11:53 elapsed and 146th place.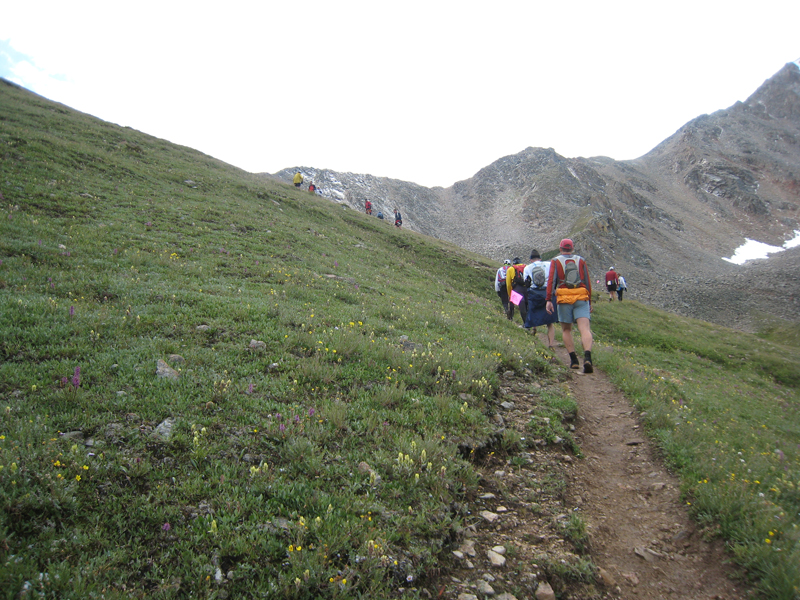 John Prater and Alan Smith on Hope Pass.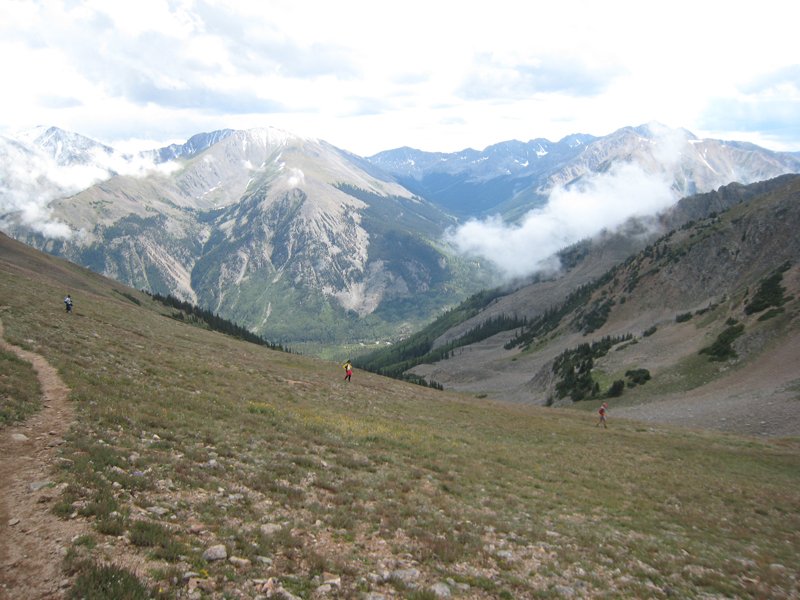 The descent to Winfield.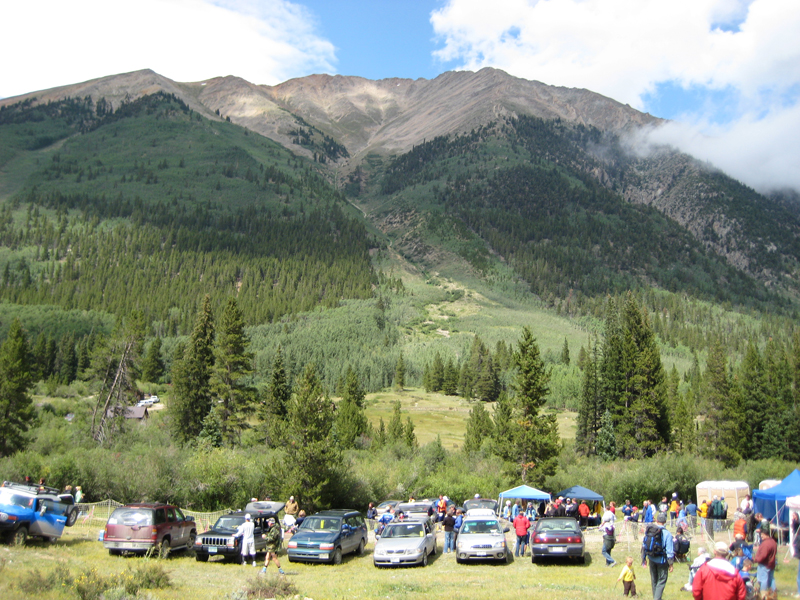 Winfield - Mile 50. Photo by Susan Gerber.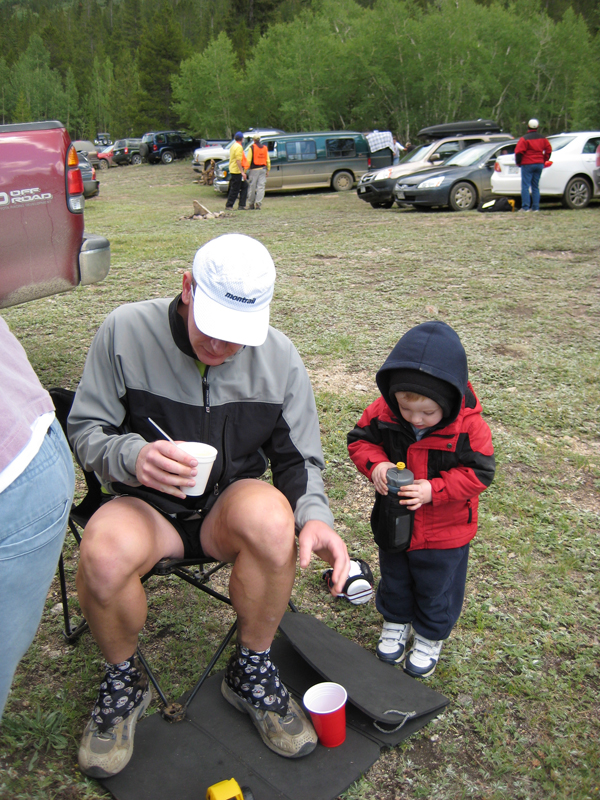 Michael helping daddy hydrate. Photo by Susan Gerber.
At Winfield I met my family at the van. Andy had my chair and new shoes out, soup ready, and all my gear packed. He did such an excellent job as my crew... totally flawless... I can't thank him enough. Susan and Michael were there and were excited to see me. Maybe the mood was good because the sun was finally shining! Kari Fraser, my pacer, was there and ready to go. I was really looking forward to running the entire second half with her. She and I run together several days a week and we know each other's style very well. I knew we'd have a great synergy on this run and that there would be a lot of good energy.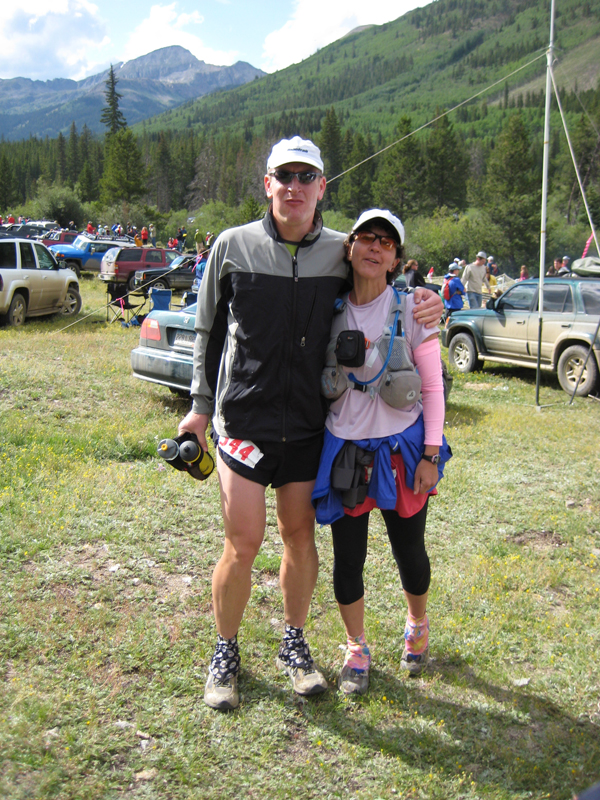 Chris and Kari at Winfield, Mile 50. Photo by Susan Gerber.
After my longest break of the race, we left Winfield in 12:09 elapsed and walked out of the aid station area to the Winfield road. We ran most of the road back to the Hope Pass trailhead as it was a slight downhill and pretty easy to run. Once we hit the trail we slowed the pace and just worked on getting over the pass efficiently. I figured there was no sense blowing tons of energy on this one climb, only to save 5-10 minutes. I think the strategy paid off. We crested the top of the climb and walked quickly down to the Hopeless aid station. Here Kari refilled my bottles and we began running. We ran quickly for a few miles along the great downhill singletrack, then eased up the pace once it became steeper. My strategy was to take it easier on the quad busting downhills. As Kirk Apt says regarding Hardrock: "Save your quads, you'll need them later". At the bottom of the climb we ran across the long flat stretch, crossed Clear Creek, and ran into the Twin Lakes aid station for the second time in 15:35 elapsed and 132nd place. It was huge surprise and morale boost to see Erik Reid here! He had ridden his motorcycle all the way from Salt Lake City to watch the race! Kari and I both changed shoes here, fueled up, and started out of the aid station and up the big climb back to the Colorado Trail.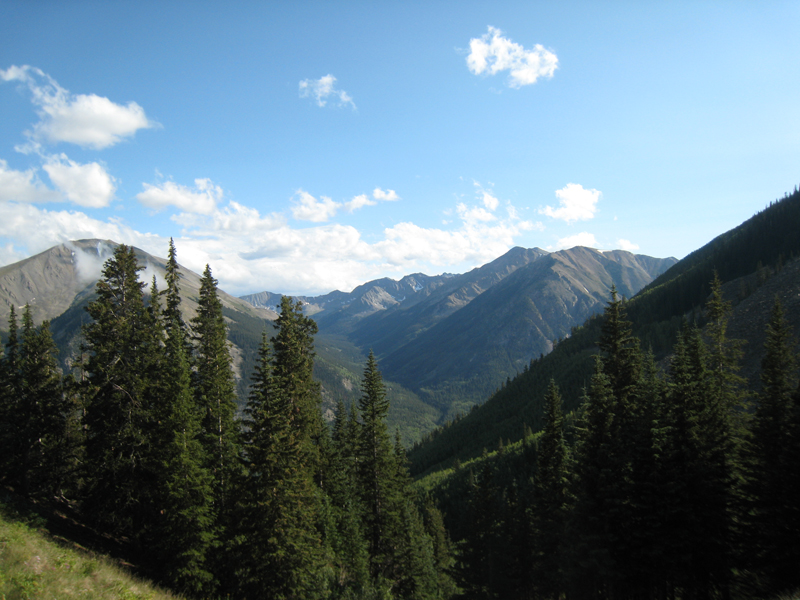 Rare moment of sunshine, on the climb back over Hope Pass. Photo by Kari Fraser.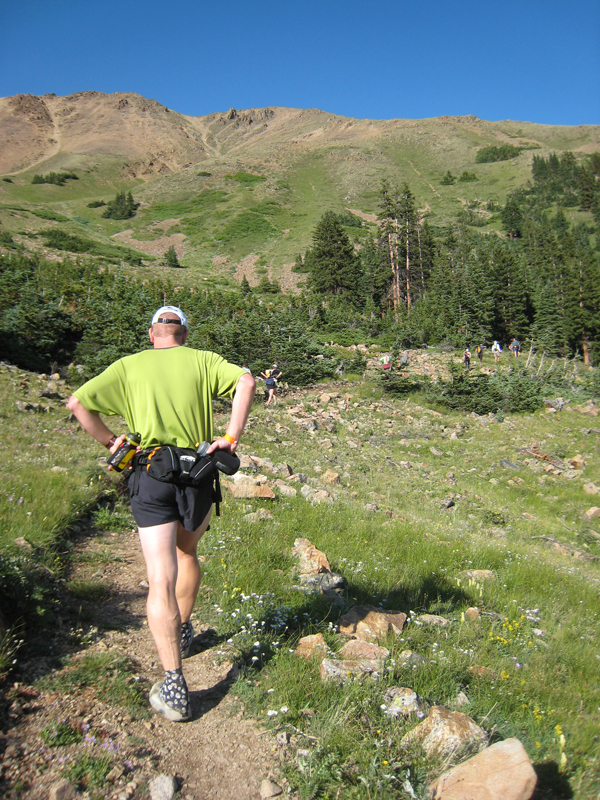 Chris climbing Hope Pass. Photo by Kari Fraser.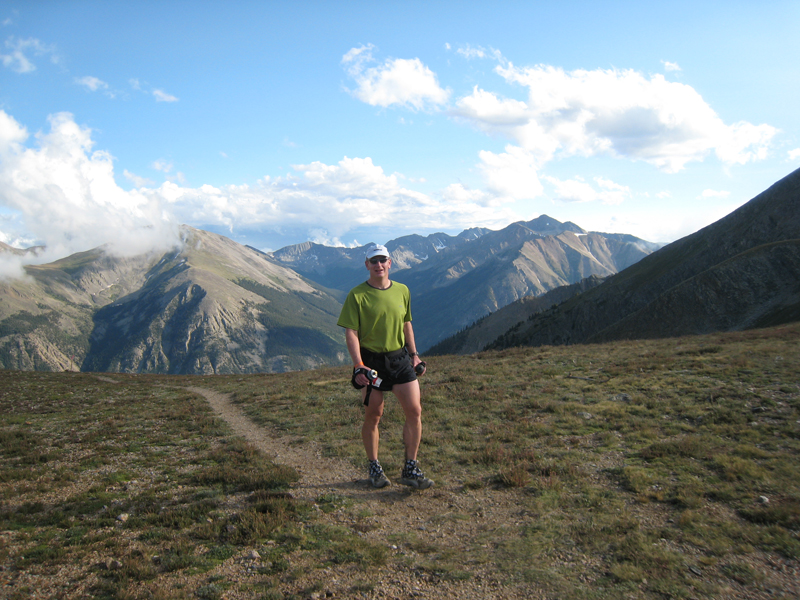 Chris at the top of Hope Pass. Photo by Kari Fraser.
The climb to the Colorado Trail was a segment I was dreading. It was quite steep, sustained, and fairly long so I expected it to really hurt after 60 miles on the move. This climb turned out to not be too bad. Kari and I just keep a good pace and kept chatting away and soon it was over. Once we hit the trail we started running all of the flat and downhill sections. Soon it got dark and we pulled out our lights. About this time we came up on another runner. After chatting for a while he said "is that Kari from the BTR night runs?". What a small world! Turns out is was Brian, a guy who comes out to our night runs on occasion. A little further down the trail we ran into Caroline Soong, who was pacing a runner from Twin Lakes to Treeline. It was very cool to randomly run into friends in the dark woods!
This part of the race felt awesome! It was, by far, the best I had felt the entire race. We kept the pace high and just kept running all of the flats and downhills. It was a blast running through the foggy dark forest, continuously picking off runners and the surreal glowsticks hanging from trees. Before we knew it, we were back on the Halfmoon road and running strong towards the Halfmoon aid station (mile 69.5). We ran nearly all of the Halfmoon road, taking a few walking breaks on the climbs. At some point along the road we passed John "Homie" Prater who was being paced by Mark Oveson. They looked great and were still moving strong (John went on to finish in a stellar time of a bit over 27 hours). Further down the road I apparently passed Shane Thread, a guy I used to ride bikes with a LONG time ago, back in Indiana. I didn't recognize him on the road, but it was dark and rainy... sorry I didn't say "hi" Shane! Shane apparently later dropped at Fish Hatchery with hypothermia. We came into Halfmoon at 17:58 elapsed and in 89th place. We had passed a lot of people on this stretch and made up a lot of time.
After a very quick break at Halfmoon, we continued running down to Treeline in worsening weather. My brother met us here and fueled us back up. He said "see you soon at Fish Hatchery" and we were off. After Treeline, the course flattens out and becomes a paved road. I fully expected this to be the mental crux of the entire race: it's late in the race (mile 75-ish), it's cold, it's late at night, and worst of all, it's paved. I hate paved roads more than anything. Turns out it wasn't so bad. We ran most of the way back to Fish Hatchery, taking about 5 quick walking breaks of a minute or two each. I think along this stretch we passed Davy Crockett... I remember seeing a distinct green flashlight, and our times lined up pretty good for a meeting along that road. His exploits in the Grand Canyon and subsequent trip reports have been really useful for my Grand Canyon trips, so I wish I would have known at the time it was him. It would have been great to stop and say hi. Kari and I finally came into Fish Hatchery at 19:31 elapsed, in 64th place.
Here we met Kristen Alvarez and Andy, both out crewing. Kristen was crewing all day and night with a broken ankle! Wow! It was getting cold and stormy, so I put on some tights at Halfmoon. We took a bit of a break (maybe 5 minutes) and headed out before we got too cold. As soon as you would stop moving in these conditions you'd immediately start to shiver and become hypothermic. The body just couldn't generate any more heat at rest. It was sad to see lots of runners getting into warm cars here. I figured the siren song of the car probably wouldn't let the majority of them back out and they would wind up calling it a day at that point, so close to the end. Kari and I walked most of the paved road back to the Sugarloaf climb where we made the left turn and started up the last big climb of the race!
From everything I read, Sugarloaf was supposed to be a monster... a total morale killer. Numerous false summits and two thousand vertical feet of climbing coming around mile 80. The wires were still buzzing like crazy and the weather was as bad as it had been 17 hours earlier. I had mentally prepared for this and was expecting it to be bad, but it turned out to be ok. Heck, it was almost enjoyable to just be out, enjoying the night with a good friend, listening to the surreal sounds of the wires and the thunder in the distance. I kept finding myself saying "I can't really think of anything else I'd rather be doing on a Saturday night". The seam on my tights blew out in a very strategic place while on the climb, so I stopped to take them off and go back to shorts... it was driving me nuts(pun intended) and I had to get them off. After the quick fix of my wardrobe malfunction, we finished up the climb and started down the rocky road on the backside of Sugarloaf. We ran most of this, though at a pretty slow pace. All of the baby head rocks were starting to wear my feet and legs out, so I picked my way down pretty carefully until we hit the Hagerman Pass road.
Once on Hagerman, we resumed running at a good pace. Off too our left, far below us, the lights of the Mayqueen aid station could be seen. It was a huge mental relief to know that was the last aid station and that barring some type of catastrophic injury, I'd finish. Turning off the Hagerman road, we started the last big descent of the race. Wow was it rocky, muddy, and steep! I didn't remember it being this nasty the previous morning! This stretch took a long time as it was both mentally and physically taxing trying to pick my way through the rocks and the mud. After a time we finally emerged into the meadow at the bottom, turned onto the paved road, and came into the Mayqueen aid station. Total elapsed time to Mayqueen was 22:42 and we were in 70th place. Andy was again there to greet us.
At Mayqueen, Kari made me sit down and eat some real food. I had done almost the entire run on just energy drink, Nuun, homeade electrolyte capsules, and HammerGel. The whey protein in the drink mix started upsetting some stomach a few hours back, so I had just switched to Nuun for drinks. This dropped my caloric intake by about 200 calories an hour. Kari wisely saw this and made me eat some potato soup and boiled potatoes. They were delicious! While sitting there, I talked to a 10 year old who was waiting to crew his dad. He had earlier paced him from Winfield to Twin Lakes. That was very inspiring to me. I hope in the not-to-distant future, Michael will be able to do something like that! After 9 minutes of bliss in the heated Mayqueen tent, Kari and I headed out. We bid Andy farewell and said we'd see him at the finish!
Uhhgg. That pretty much sums up the next 5 miles. The trail around Turquoise Lake is constantly up and down and a bit rocky. I had the hardest time maintaining a rhythm on this stretch. We wound up walking nearly all of the trail back to Tabor Boat Ramp. At Tabor, the trail levels out and we could resume running. We ran the rest of the trail around lake, back to the powerline cut that drops us onto the road. The long long road home. I sure didn't remember this road being THAT long! The Boulevard seems to stretch on forever, but apparently it's only about 2 miles. Uhhg. We trudged up that road for what seemed like a really long time. At least we were still able to keep a fast walking pace, about 13-15 min/mi. The next time I do this race, I'd like to come home with enough in the tank to be able to run this... just to get it over with!
Eventually the Boulevard ended and we hit 6th Street. A quick right on 6th, a short but steep climb, and there it was: The Finish. We walked it in until we met Andy, Susan, and Michael. They had all come out in the 33 degree pouring rain to see us to the finish. I figured this would be a very emotional moment, out there on 6th, coming home to the finish with my family. In reality, I didn't have much energy for emotion at this point... I was just really tired and ready to get it over with. Near the finish we took Michael out of the jogging stroller and I carried him across the line. That boy is getting heavy!! He really enjoyed the finish and kept saying "we're going to the finish line daddy!". We were done. It took me 26 hours, 22 minutes, and 20 seconds. Merilee gave me a big hug and hung a nice finisher's medal around my neck. I met up with the rest of the folks and we went over to the tent to get cleared by the medical doctor and to grab some hot food.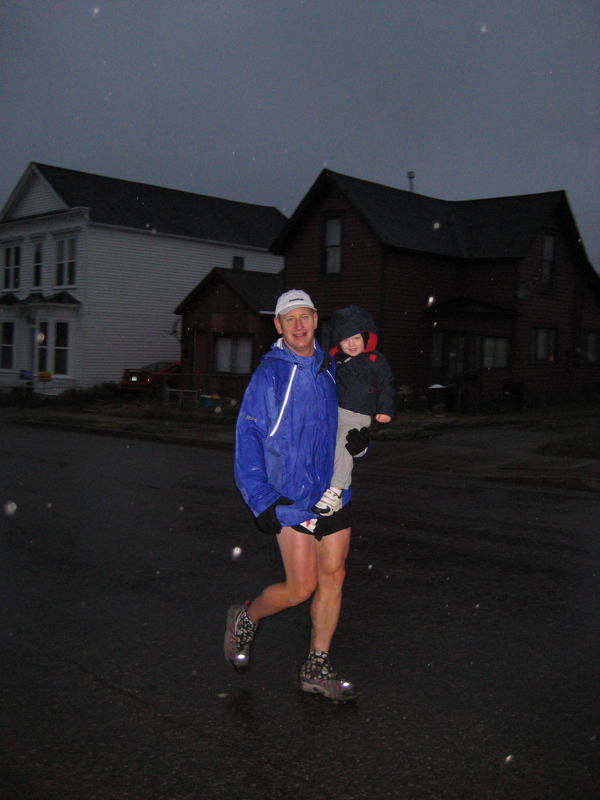 Chris and Michael coming into the finish. Photo by Susan Gerber.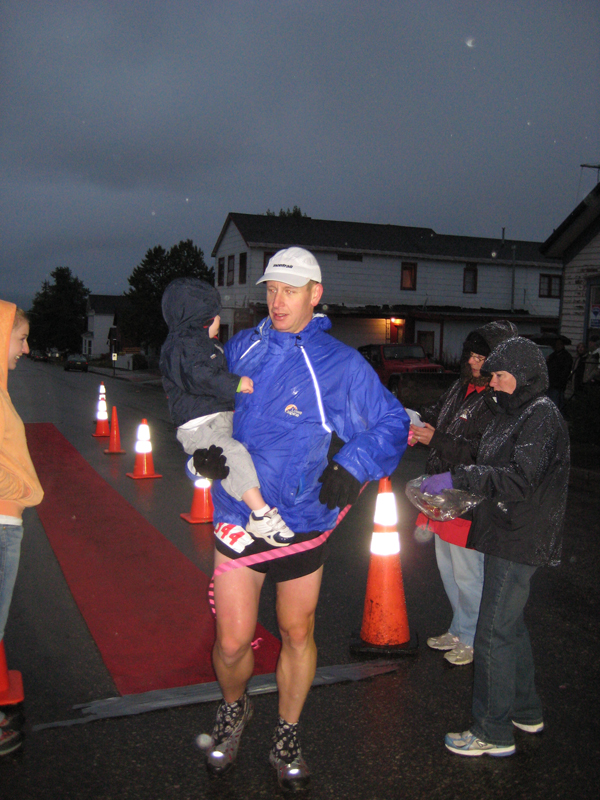 Chris and Michael at the finish. Photo by Susan Gerber.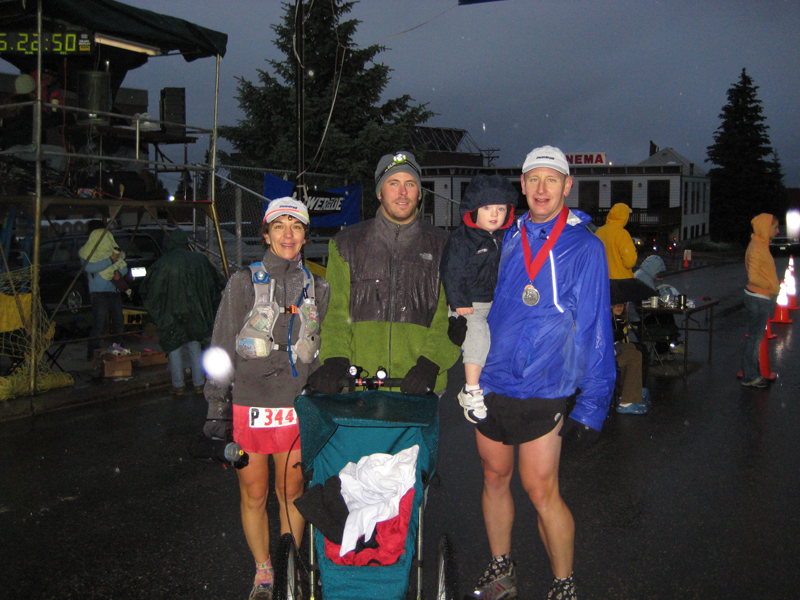 Kari, Andy, Michael, and Chris at the finish. Photo by Susan Gerber.
After eating some soup, we headed back to the Super 8 where everyone, even Michael, took nice long naps before the awards ceremony.
Overall, this race went off far better than I expected, especially with the weather conditions out there. I had fun the entire time... the whole race was fun and it was a really cool experience. I took everyone's advice seriously, especially Stephanie's, and did exactly what they said. Steph told me exactly how to run this race and I did everything she recommended. The fastest times are usually out in 45% of the total time and back in 55% of the total time. I was out in 46% and back in 54%. Stephanie was out in 46% and back in 54% too. I owe a huge thanks to her for teaching me how to run these, to Andy for crewing me for 26 hours in the rain, to Kari for pacing me all the way home from Winfield, and to my family, for putting up with all the training that something like this requires. Thanks so much guys!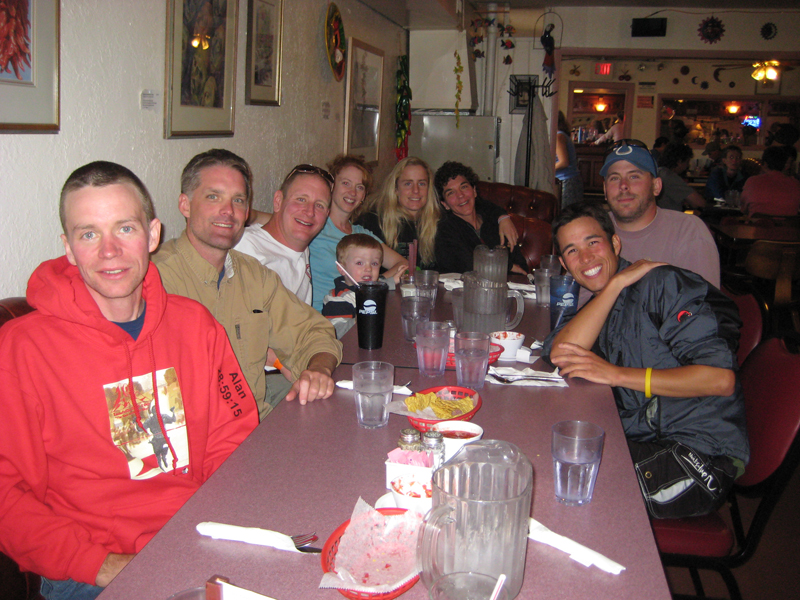 The idiots at the post race dinner. Alan Smith, Michael Poland, Chris Gerber, Michael Gerber, Susan Gerber, Tressa Breindel, Kari Fraser, Andy Gerber, Eric Lee
How the rest of the folks fared:
Peter Sanders - Peter didn't start, due to his continued illness that's keeping him from running much. He came out and yelled for us at Twin though. Hopefully he'll be back to his normal self soon and tearing it up.
Michael Poland - Mike had a miraculous return from a bad injury over the last few weeks. Initially thinking he was out, he decided to start and "see what happens". He had an enjoyable 40 miles to Twin Lakes where he wisely decided to give his injured leg a break.
Alan Smith - After two previous DNFs at Leadville, Alan was back for revenge. And boy did he get it! He looked strong the entire day and came in around 28:59. Nice job Alan!
Stephanie Ehret - After being nauseous and sick for the first 40 miles, Steph got over whatever it was that was troubling her and she turned on the gas. She motored the last 60 miles, finishing in a stunning 24:43:28 and 2nd place overall for women!
Andy Skurka - Wow! Backpacker extraordinaire Andy went big at his first 100 miler, coming in 2nd place overall! I think he's got a big future in this ultrarunning stuff.
Mark Sunderland - Mark has had a bad year... one injury after another. In the end, all these injuries kept him from training enough and he dropped at Twin.
Shane Thread - Shane was off to a fast start but had an accident on Hope that slowed him down and then he wound up hypothermic in the later hours of the race, he dropped at Fish Hatchery.
Henry Schloss - Henry finished strong in 29:46:40.
Joe Burleson - Joe joined us on our Colorado Trail epic in May, where we nearly spent a miserable night out bivied along the trail. Joe had a great race and finished in 29:10:37.