HOME > Outdoors Home > Trip Reports

Land Between the Lakes 50 Mile Ultramarathon - Grand Rivers, KY - March 8, 2008

Quick Details:


Date: March 8, 2008
What: 50.0 mile trail ultramarathon
Where: Land Between the Lakes, Kentucky
Weather: Cold, Fresh Snow, Mud, Wet Trails
Distance: 50.0 miles
Elevation gain: 3,998' / loss: 3,998'
Technical Difficulty: Grade III, Class 1
Physical Difficulty (subjective):7 out of 10
Time: 10:10:01 (hh/mm/ss) - 25th Place (of 89 starters and 40 finishers)
Calories burned:
Photo Gallery: Click Here for Photos.
Results: Official Results
Official Race Website: LBL Trail Runs

Jonathan's trip report is HERE.

Susan, Michael, and I were long overdue for a trip back home to Indiana to visit my family. It had been over a year since our last trip back. While conversing with Jonathan Phillips over the winter, we decided it would be cool to meet up at Land Between the Lakes to run the LBL Trail Runs in early March. We wavered back and forth for a month or two, then finally we took the plunge and mailed in our entries. Jonathan decided to run the 23k (which would be his longest run to date!) and I entered the 50 mile, hoping to get a training and psychological boost before the Leadville 100. I was really looking forward to a)running a race with Jonathan, since we both started running together during lunch hour runs back at Cinergy years earlier, b)running at sea level and c)running a flat ultra course. The LBL race only has about 4000' of gain over 50 miles, so it would be a pleasant change from the San Juan Solstice (13,000' of gain) and the Moab Alpine to Slickrock (11,000+' of gain).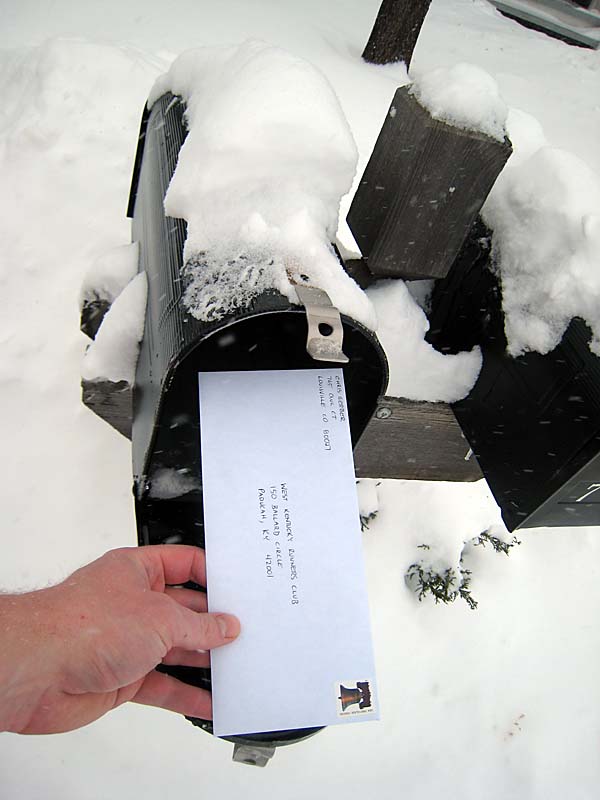 Jonathan and I photographed the entry forms going into the mail, so we knew the other was committed!
The logistics of this trip became quite convoluted as the race approached. We had been trying to sell our old GMC truck, but 2wd trucks in Colorado are pretty worthless. My dad offered to sell it for us back in Indiana. About 2 weeks before the race, Susan's brother called to say they were buying a new minivan... and they offered to give us their old 1999 Honda Civic. We had been looking for an old commuter car that got good gas mileage, plus it was an offer we couldn't refuse! We decided that I'd leave Colorado on Thursday, March 6th and drive the GMC to Kentucky. Susan would fly out to Indy on March 8th, with Michael, and pick up the Honda. We'd rendezvous in Evansville and leave the truck and drive the Honda home. What a trip!
I rolled out of Bouder around 4pm March 6th and made great time all the way to Kentucky. I was racing a major winter storm (two of them, actually!) across the country, so I only slept 4 hours at a rest area in Kansas so I could stay ahead of it. I managed to avoid all the snow until I passed into Kentucky. At that point I only had about 50 miles to go, so it wasn't a big deal. I rolled into Yancy's mom's (amazing) lakeside condo around 2pm and was greeted by my great friend Wayne who'd come down to watch the race and pace me for a lap. Jonathan arrived a couple of hours later. His family had decided to stay home because of the major winter storm that was now pummeling the area. We made a great dinner of pasta, picked up our packets, and reminisced about the 'good old days' for several hours until it was time to head to bed. We'd be getting up very very early... 3:45am. Unfortunately, ultramarathons start early!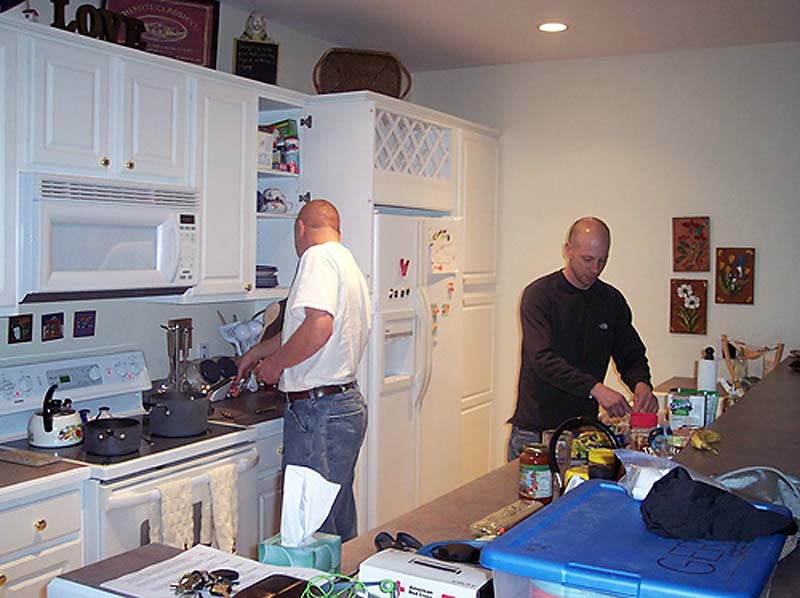 Chris and Wayne cooking dinner. Photo by Jonathan Phillips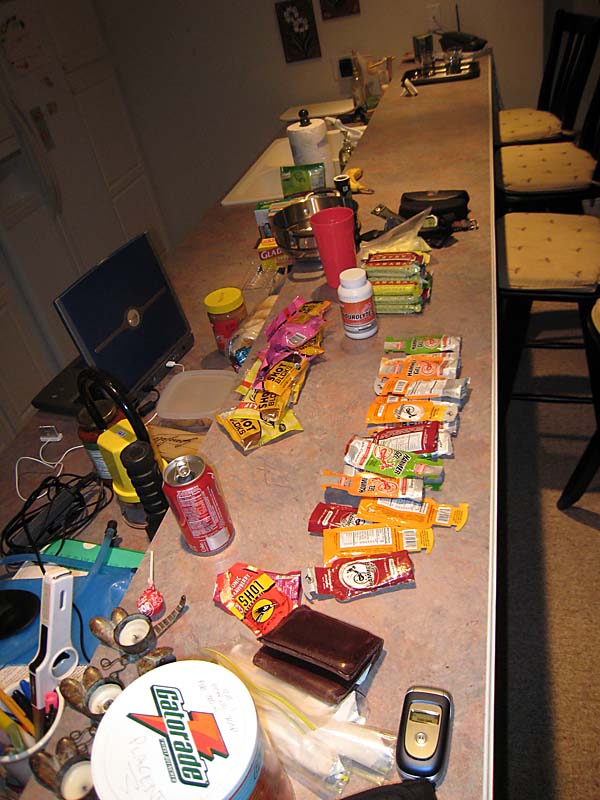 Laying out calories for the race!
The Land Between the Lakes 50 mile course starts and finishes in Grand Rivers, KY. Grand Rivers is just under 2 miles north of the LBL Recreation Area. The Land Between the Lakes is an enormous area of public land managed by the US Forest Service. It lies between two large manmade lakes in western Kentucky: Lake Barkley to the east and Kentucky Lake to the west. The course heads south from Grand Rivers, crosses a shipping canal between the two lakes, does 4 laps of the approximately 11 mile Canal Loop, does a short stretch of out-n-back on a paved road (to make an even 50), then returns to the finish in Grand Rivers. The Canal Loop is a stellar 11 mile singletrack trail that circles the upper part of the Land Between the Lakes and follows the convoluted shoreline of both lakes. The Lake Barkley side is flat to gently rolling and the Kentucky Lake side features quite a bit more climbing (though no single climb is more than 100-200' of vertical gain). I've mountain biked this trail dozens of times, but I've never run it.
On race morning, we got up early, ate breakfast, packed up and headed out to the start. There was quite a bit of new snow, but it had been very windy, so from the condo it was hard to tell exactly how much. As it turns out, it was about 6" or so in the trees. Funny what the people of Kentucky call a MAJOR WINTER STORM! :-) Due to logistics, we all drove to the start in Grand Rivers in seperate cars, which was about 30 minutes away. Jonathan's serpentine belt came off his engine (we didn't realize at the time that's what it was), so we left his car at a truck stop and continued on to the race. The plan was to leave my truck full of gear and food at the main aid station at the north end of the Canal Loop. After Jonathan's race, Wayne would take him back to his van to get it fixed, then he'd come back and run a lap with me.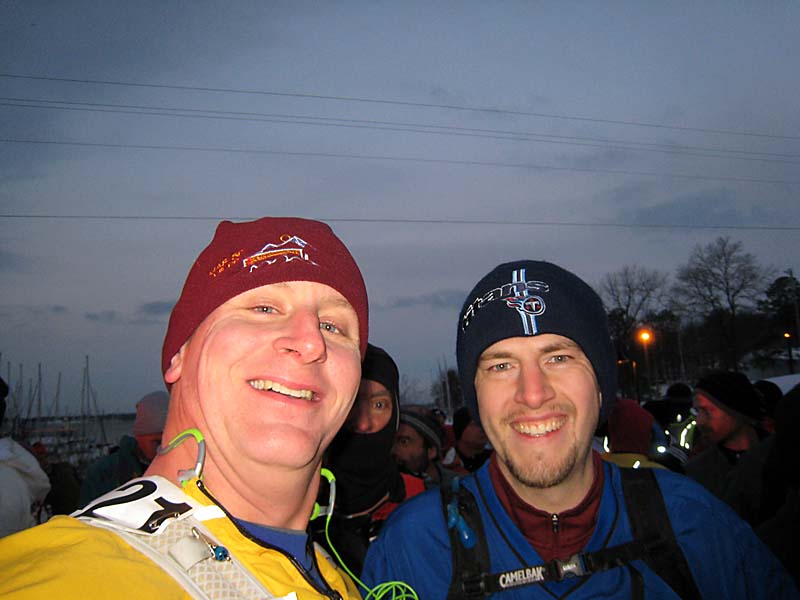 Chris and Jonathan at the start line. It was frigid!
We arrived at the start and wandered over the start line in frigid temps with a cold wet wind blowing off the lake. The humid air was something I wasn't accustomed to, so the temps seemed especially cold. I ran into fellow BTR Runner Charles Corfield (who went on to finish 6th overall) at the start. It was his first trip to the midwest, and I don't think he was very impressed with Kentucky weather :-). The race director gave some directions that nobody could hear over the talking and the wind, and then we were off. The first 1.7 miles followed The Trace, a paved highway that runs the length of the Land Between the Lakes. After crossing the canal that connects Lake Barkely and Kentucky Lake, we turned onto the singletrack of the Canal Loop. I'd spend the next 44 miles on this trail. It was going to be a long day!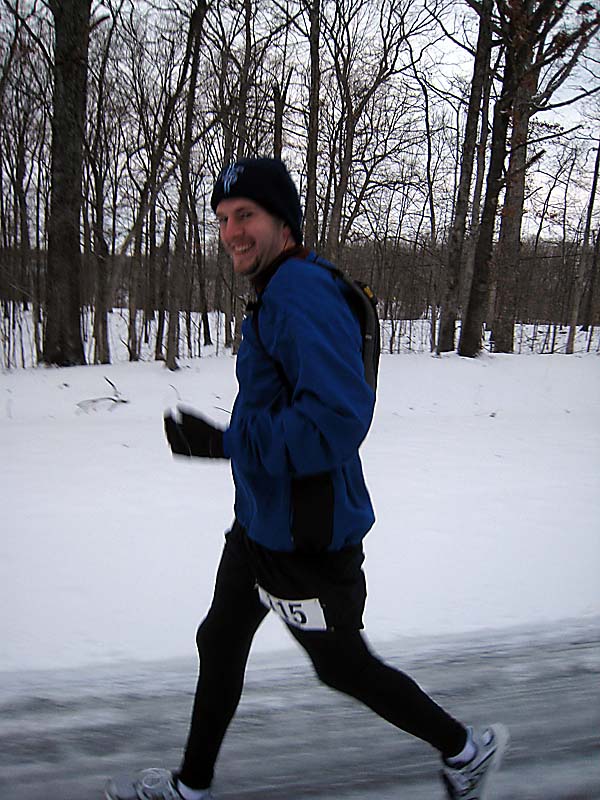 Jonathan on the road before the Canal Loop.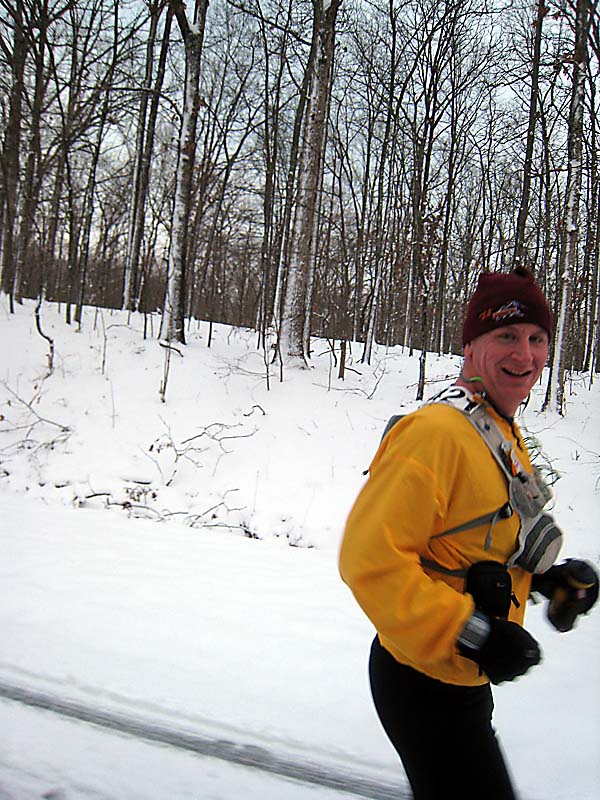 Chris on the road before the Canal Loop. Photo by Jonathan Phillips
Jonathan and I settled into a very nice mellow-paced rhythm with about 20 other runners. We were all talking and having a good time. I tend to go out too fast, so this slow group was perfect. We were maintaining something like a 10:30 to 11:30 min/mi pace, which would have put me on my goal of a sub-10 hour run. The trail was absolutely beautiful in the morning light! We were running along the shores of Lake Barkely, through a wonderful hardwood forest, on top of 6" of fluffy fresh snow. Add to this that I felt really good! What a great morning! After about 7 miles, we came to a moderately steep and long downhill and I was bunched up behind a couple of runners who weren't going terribly fast and weren't confident of their footing on the icy trail. I decided to pass them, since I tend to run the downhills pretty quickly. I quickly passed and went on down the trail. After a half mile or so, I realized Jonathan didn't make the pass. I debated waiting for him, but decided to continue on. This would come back to haunt me later.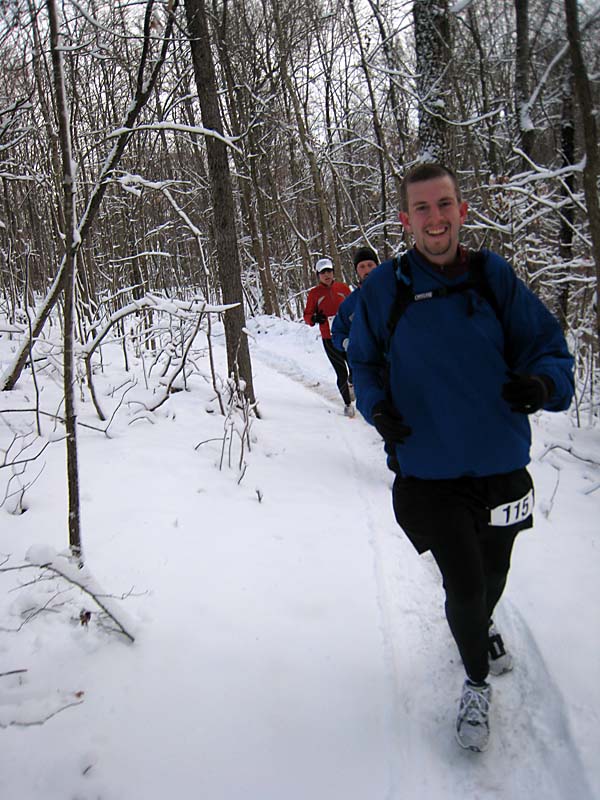 Jonathan having fun in the early miles of the Canal Loop.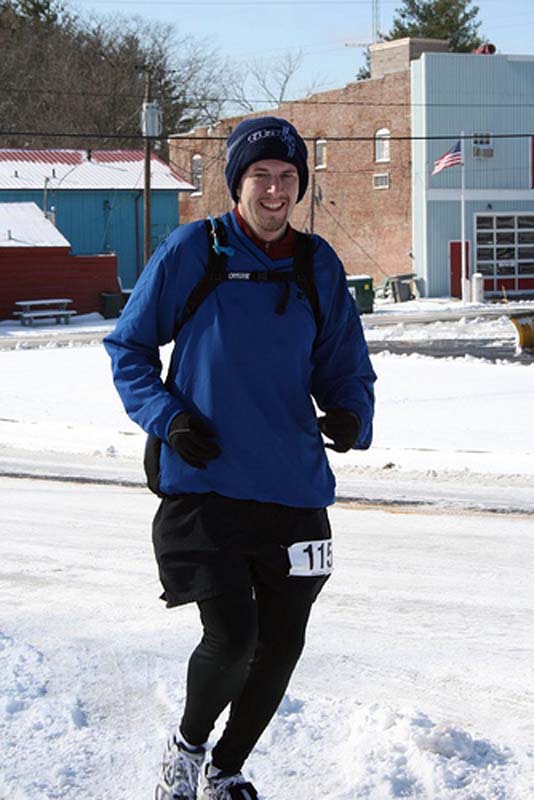 Jonathan finishing the LBL 23k looking strong.
Up to this point I had been running well, taking it easy, and walking the steep hills because the crowd in front of me was forcing that. After I got around everyone I decided to open it up a bit and pick up the pace. I began running all of the hills, including the steep and constantly rolling ones on the Kentucky Lake side of the loop. I finished the first lap (about mile 13) in about 2:20. The truck wasn't here yet, but I didn't need it at this point. I grabbed some food, refilled my bottle, and started on my second lap. The snow was still firm and well-packed on the second lap, and I was on pace to run this lap in about 1:45. This should have been a massive red flag, since my fat carcass is NOT capable of running an 8 hour 50 mile trail ultra! Near the end of lap two, I was bombing down one of the steep climbs like an idiot (special idiot?) and tweaked my calf pretty bad. I thought it was just cramping up, which was odd since I had been taking in electrolytes and fluids pretty well. I didn't know it at the time, but I wound up straining or tearing the gastroc-soleus-achilles junction pretty badly. I ran and walked the last mile or two and finished lap 2 in just under 2 hours. I changed into dry clothes at the truck, grabbed some supplies, and limped out for lap 3.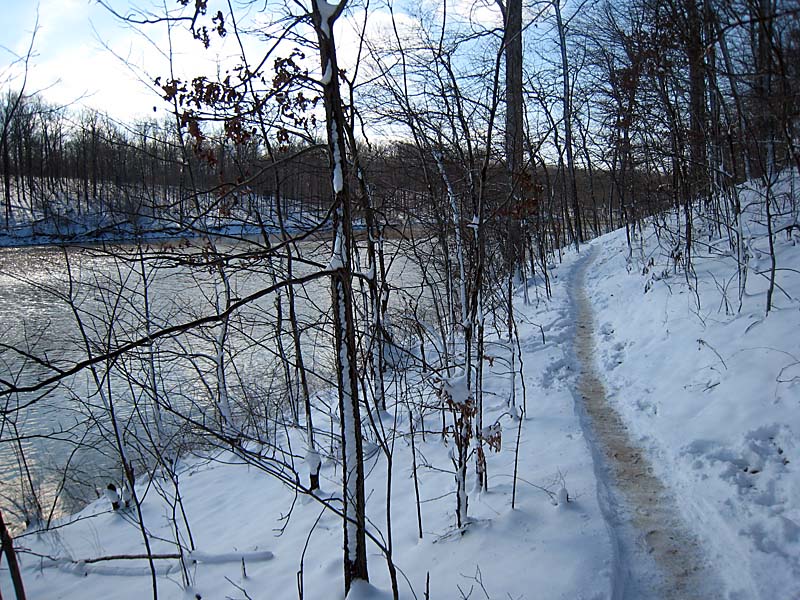 Running along Lake Barkley
Lap 3 was miserable. Absolutely utterly miserable. My calf was screaming so my pace had dropped off to something near that of a toddler just learning to walk. On top the injury, the snow was melting fast under sunny and rapidly-warming skies. The course was rapidly turning into a mud-fest! This lap seemed to drag on and on and on. I think somebody doubled the number of hills on the Kentucky Lake side (the downhills were murder on the calf). I finally finshed Lap 3 in something like 7:30 total time and was greeted by Wayne, who was geared up and ready to run. My shoes had become two muddy boat anchors, so I changed out of my heavy Hardrocks and into my lighter Inov-8 Flyrocs, which are better at shedding mud.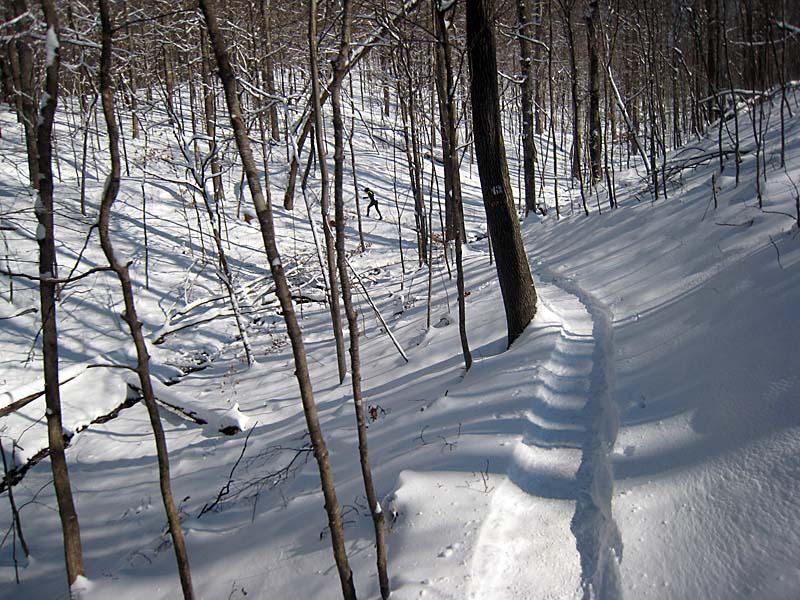 A runner powering through the hills on the Kentucky Lake side of the Canal Loop
Wayne and I slowly headed out for the final lap. Only 11 more miles of now muddy trail, then I'd have to run 2.9 miles of paved road back to the finish in Grand Rivers. I started to come around a bit on this lap, and kept my sub-10 hour goal in the back of my mind. I figured it was remotely possible, but highly unlikely. Wayne and I were having a good time, running and chatting about this and that. It was great to be able to run with Wayne again. I'm really looking forward to when he finally moves to Boulder. At one point, Wayne ran ahead of me and said "ok, I'm going to pace you now...stay on my tail". I said "Uh...that's not really how pacing works in ultras. I'll set the pace, you just keep me company!". I knew he'd start throwing down some of his crazy 6 and 7 minute miles and I'd never see him again! The first half of the Canal Loop is the "easy half" as there aren't many climbs, the trail is a bit smoother, and there was considerably less mud and water. We mad pretty good time on this half. We crossed the Trace at the halfway point and started on the harder second half of the lap. By this point, the hills were really started to grind on me. My pace slowed down quite a bit, but we kept on pushing. Finally we popped out onto the road at the last aid station. I made a left and started my 1.2 mile out and back that was required to make this an even 50. Wayne stopped at the truck and changed clothes and cheered me on when I came back by a few minutes later. All that was left at this point was to run back out to the Trace, hook a left, and run that last mile and half to the finish. The paved road really hurt at the end... it was hard on the legs and into a still cold headwind...but it sure beat the muddy trail! I wound up finishing in 10 hours, 10 minutes, and 01 seconds (10:10:01), just missing my goal of sub-10 hours. I did manage to lower my 50 mile PR by almost 2.5 hours though!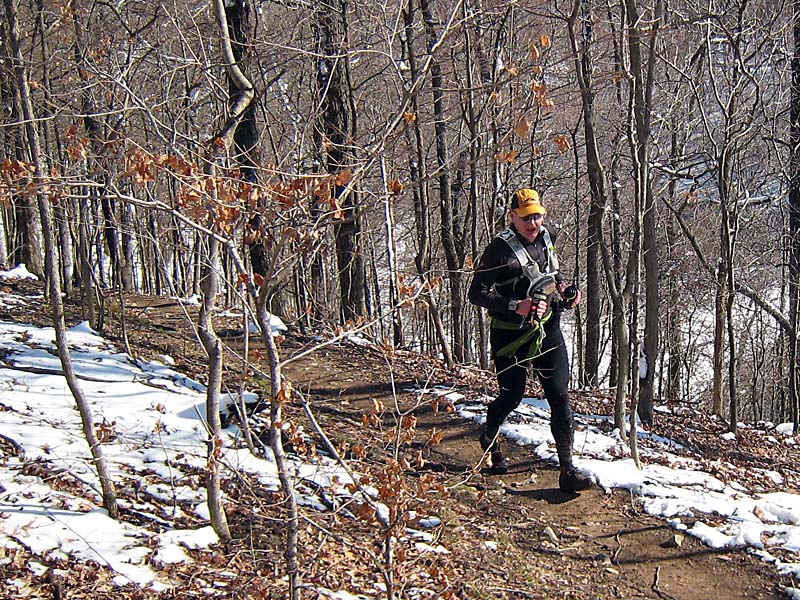 Chris nearing the end of Lap 4. Photo by Wayne Ricketts.

Chris finishing the LBL 50 mile in 10:10:01. Photo by Wayne Ricketts.
After the race, Wayne and I grabbed some food at the finish and then headed back to the condo. I was suffering from severe hypothermia, so I spent the rest of the night shivering like crazy. We had a mediocre dinner at some local diner in Eddyville. We had been looking forward to eating at Patti's Settlement, but they were closed due to the "huge snowstorm" which by this point was non-existent.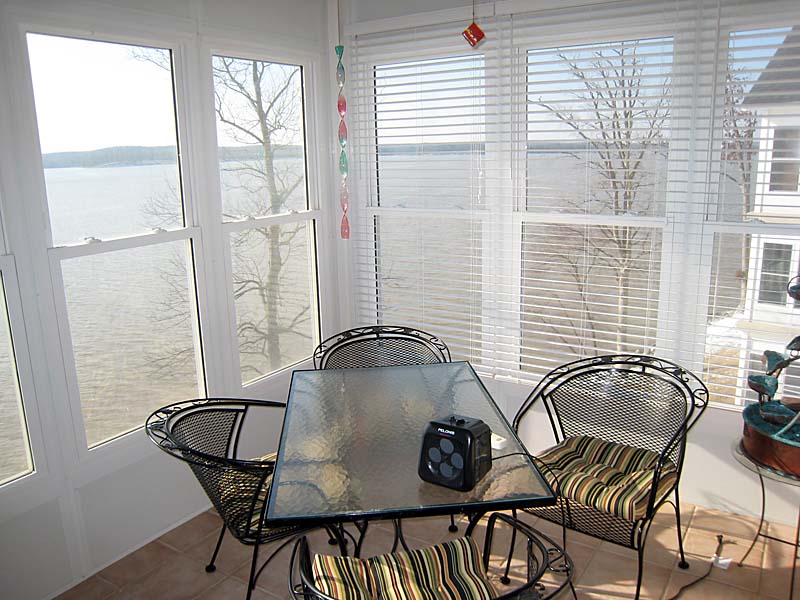 Looking out at the Land Between the Lakes from the Condo on Lake Barkley.
The rest of the trip back home went great. We got to spend a lot of time with family and see quite a few friends, though we didn't get to see everyone we wanted to... it's hard to fit it all into 5 days. All in all, it was a great race. Steve Durbin and his volunteers put on an excellent ultra. The aid station volunteers were AMAZING, especially considering the weather! Thanks to all the volunteers! I think I'll be back in 2009 to try to lower the time by 10 minutes and 1 second. :-)