Aspen Four Pass Loop - Aspen, CO - July 28, 2007

Quick Details:


Date: July 28, 2007
What: 28 mile endurance run in the Elk Mountains, over 4 major passes.
Where: Aspen, CO
Weather: Overcast, Wet Muddy Trails, Cool Temps, Humid
Distance: 28 miles
Elevation gain: 8760'
Technical Difficulty: Grade IV, Class 1
Physical Difficulty (subjective):7 out of 10
Time: 7:42 moving time, 8:55 total time
Calories burned: A Lot
Photo Gallery: Click Here for Photos.

Stephanie Ehret sent an invite to the outdoor list to run the famous Four Pass Loop with her and some of her friends on July 28, 2007. It didn't take me long to make up my mind to do this one. Ever since I backpacked the loop with Wayne in September of 2004, I wanted to go back and do it as a one-day push.

Eric Lee and I rolled out from my place about 6:30pm on Friday under threatening skies, heavy rain, and lightning. Lightning seems to be the theme of my summer this year. We stopped and picked up some beer for everyone in Superior, picked up some free brats that Breckenridge Brewery was giving away, and drove on to Aspen. We arrived at the Maroon Bells trailhead around 10:30pm and quickly set up 'camp' in the back of the new Honda Odyssey. As a side note: This car is awesome for camping in! There were at least a dozen other cars in the parking lot, including Peter and Steph's. We set the alarm for 4am and went to bed.

4am came quickly! We dressed and packed up our stuff and met the others in the parking lot. There were eleven of us total... nine in our group and then Peter Bakwin and Darcy Africa, who planned to start about an hour later. We headed off at 4:38am under cloudy and somewhat threatening skies.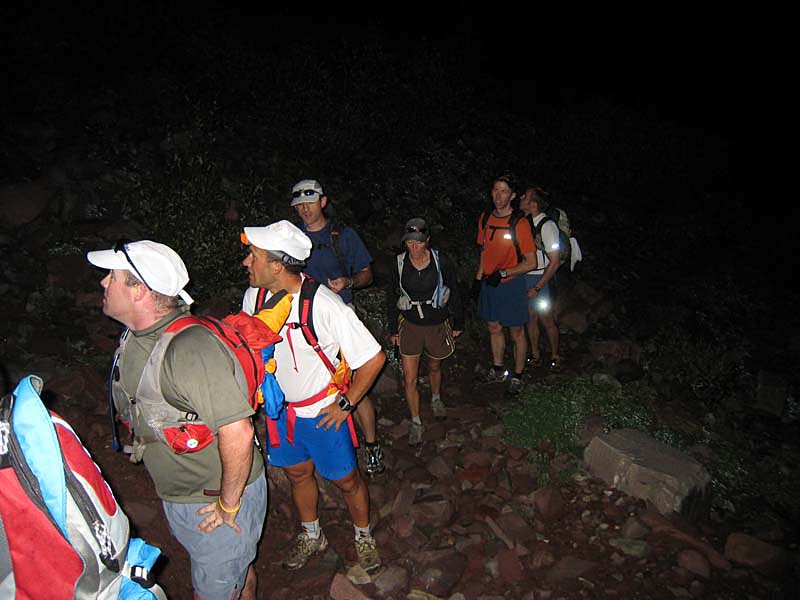 The group not long after the start.
The run/hike to the first pass went quickly as we all chatted, got to know each other, and traded stories. This was a really nice and friendly group of runners. Soon we were on the summit of West Maroon Pass (12,490') where we stopped for a quick photo and bite to eat.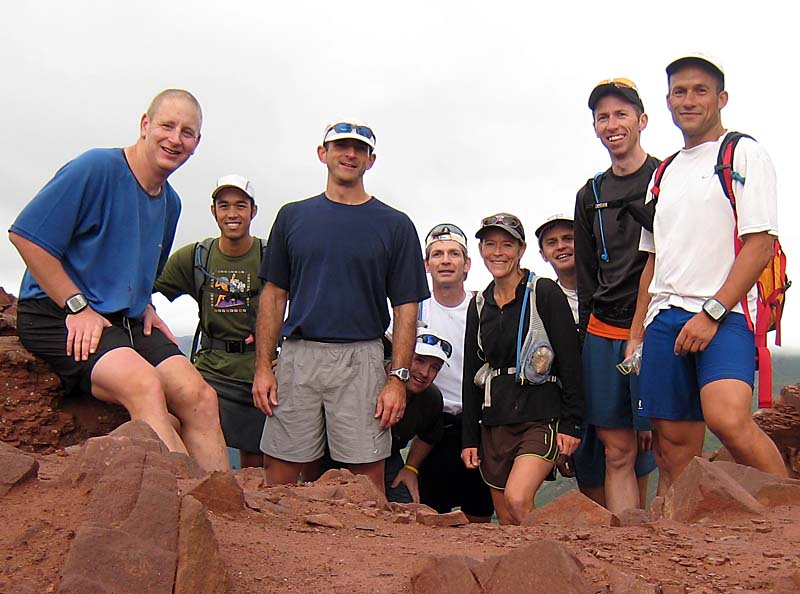 L-R: Chris Gerber, Eric Lee, Hollis, Mark Sunderland, Kevin Cooper (Coop), Stephanie Ehret (Steph), Kreighton Bieger, Darren, Glenn
From West Maroon Pass the trail drops quickly then gradually ascends through fields of amazing wildflowers to the base of Frigid Air Pass (12,400'). The final ascent to Frigid Air is quite steep, but short. This would be our easiest climb of the day.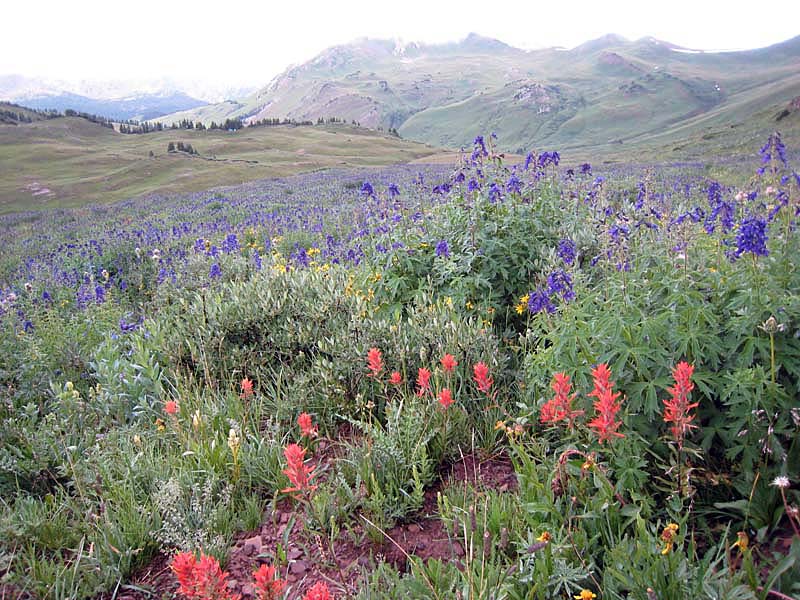 Wildflowers on the climb to Frigid Air Pass
We re-grouped at Frigid Air Pass and marveled at the view into Fravert Basin. With the low clouds, sun poking through, and the rich green tundra, it looked like Ireland. The run down through Fravert Basin was incredible! Tons of green and wildflowers, amazing views, and rushing streams and waterfalls! We kept a good pace all the way down to the North Fork of the Crystal River, despite the often deep mud and standing water on the trail.

Running through upper Fravert Basin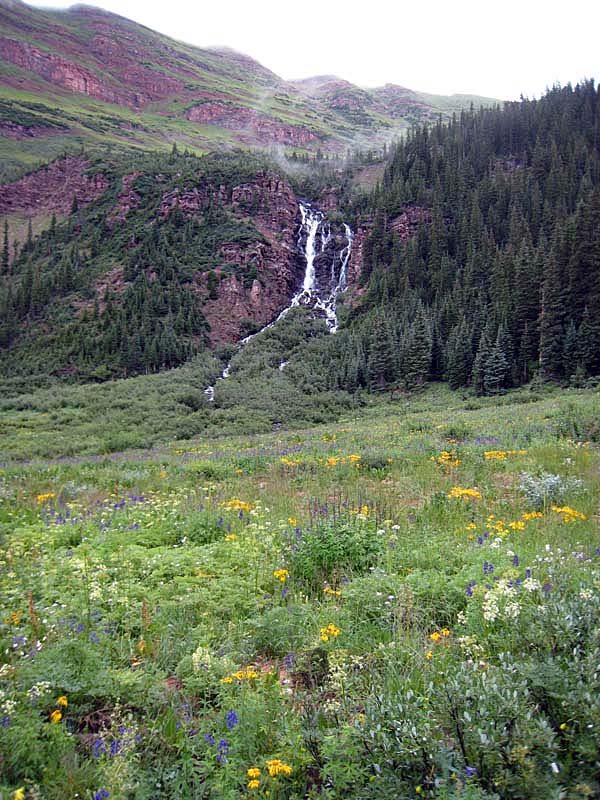 A large waterfall in Fravert Basin, near the creek crossing to Trailrider Pass.
We again regrouped at the crossing of the North Fork of the Crystal River where we filtered water and had a bite to eat. While there, Peter and Darcy came through headed the other direction. They wound up running the entire loop in a quick 6:45!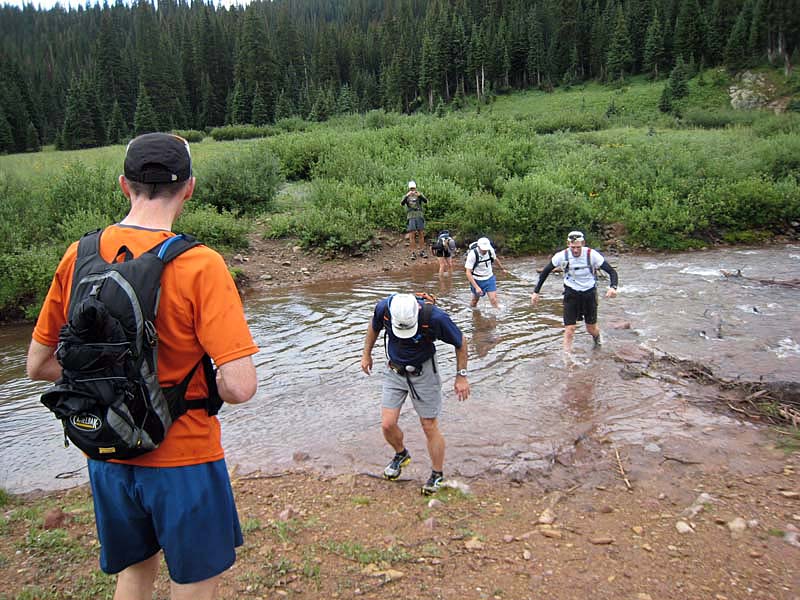 Crossing the North Fork of the Crystal River.
The next climb, Trailrider Pass, was a big one. The trail climbs about 2200' vertical feet in just a few short steep miles. I went a little too hard on this one, trying to keep up with the rest of the group, and I wound up paying for it on the fourth climb. We arrived at the summit of Trailrider and took a quick break then started the steep descent down to Snowmass Lake. The descent to Snowmass is steep and technical. Since I had sprained my ankle a few times recently, I eased off the pace a bit and ran alone and slower the last 1/3 of the descent. At the Snowmass Lake junction I took a turn towards the lake (instead of turning right and immediately heading towards Buckskin Pass). After a few minutes, I realized there were no running shoe prints in the mud, so I turned back and started the long climb to Buckskin Pass.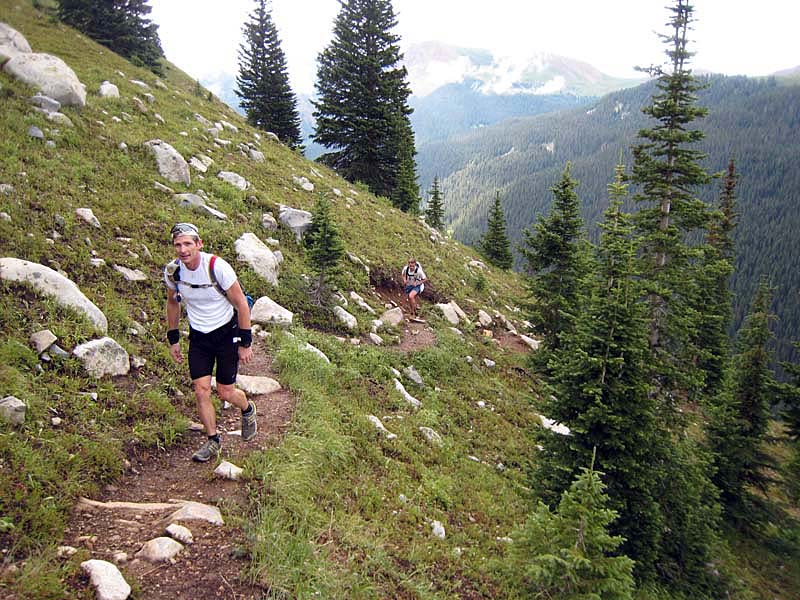 Coop and Kreighton on the steep climb up Trailrider Pass.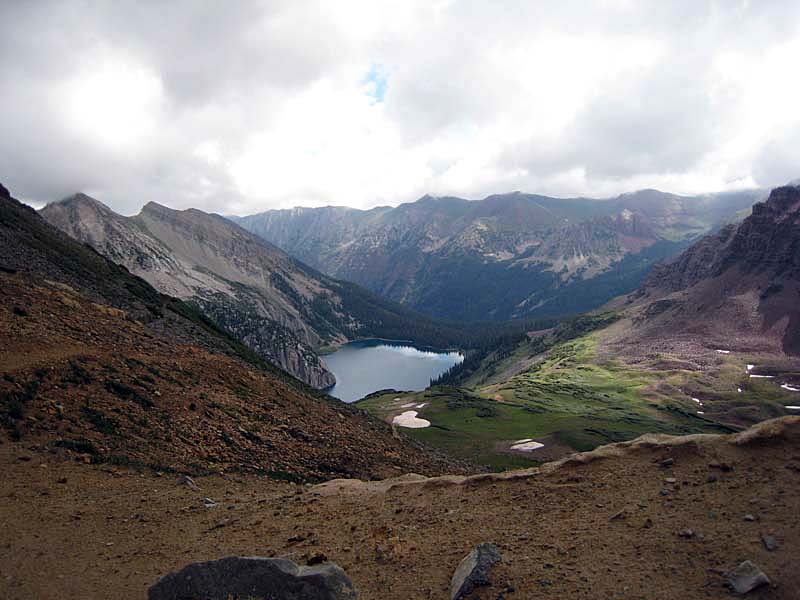 Looking down on Snowmass Lake from Trailrider Pass.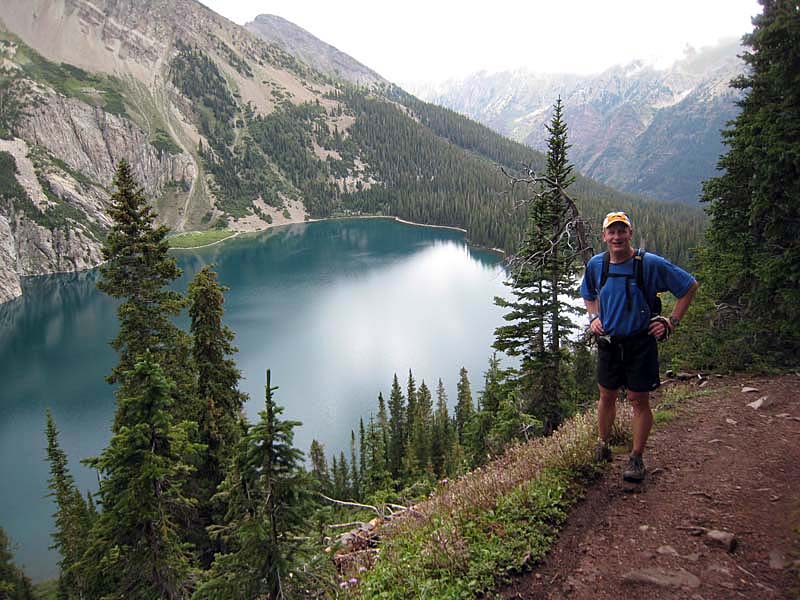 Chris, high above beautiful Snowmass Lake
The final climb to Buckskin was pretty slow for me. I went too hard on Trailrider and probably hadn't eaten enough during the run and was now bonking pretty good. At the sketchy crossing of Snowmass Creek, Coop caught up to me and gave me some good words of encouragement. He was awesome all day long, yelling up and down the trail to people, telling them how good they looked.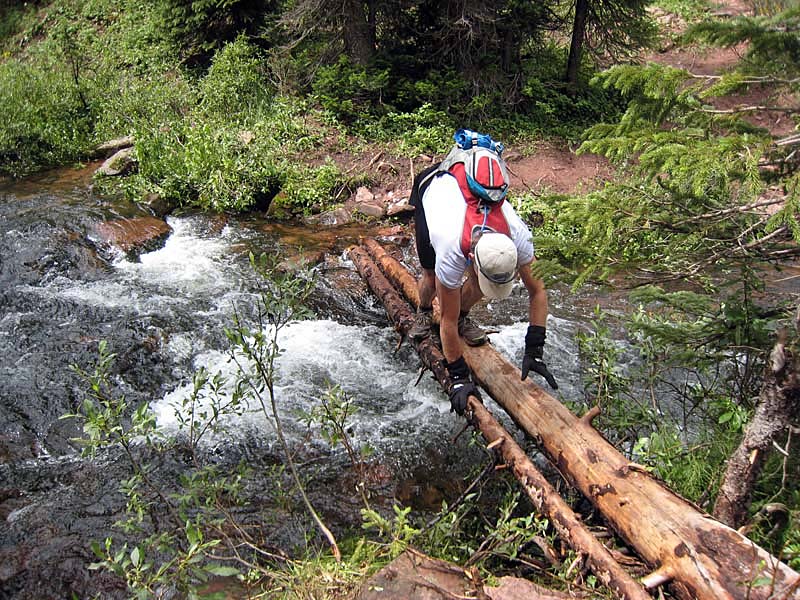 Coop, crossing Snowmass Creek. There's quite a little waterfall just out of sight to the right.
Cooper was feeling good so he ran on up the climb to Buckskin. I kept a good steady hiking pace, but wasn't setting any speed records. After what seemed like quite a long time, I topped out on Buckskin Pass and began the last long, steep, technical drop back to Maroon Lake. The final descent off Buckskin features a lot of rock, much of it loose. I had to carefully pick my footing so I wouldn't re-sprain my ankle again.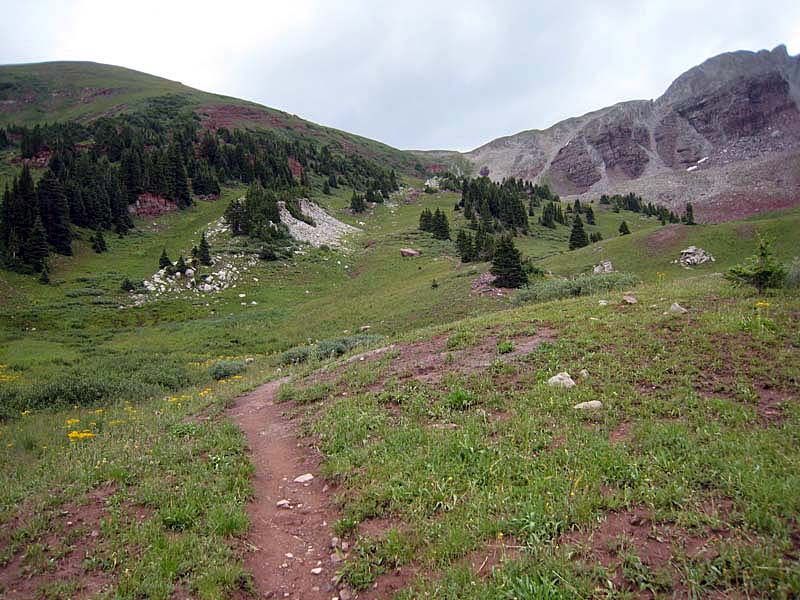 The climb to Buckskin Pass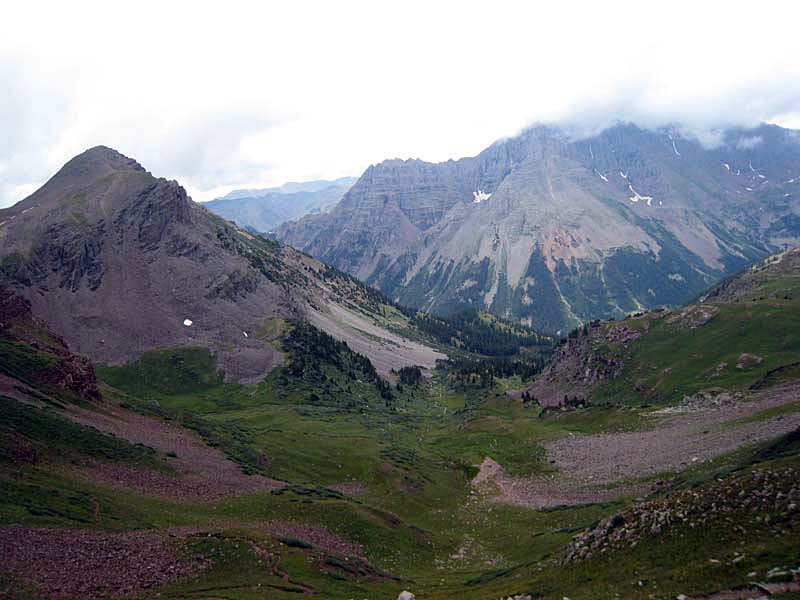 Looking down towards Maroon Lake (out of view in the valley that curves left, from Buckskin Pass
As a general rule, the closer one gets to the cars, the more tourists one encounters. Today was no different as the last two miles of the run featured a ton of hikers, tourists, and families out for a hike. A got a few puzzled looks, probably because I was covered in mud from head to toe and just splashing through all the puddles with reckless abandon. The weather had begun to drizzle, so most people were also headed back towards the trailhead. With about 1.5 miles to go, I came around a bend and saw Eric waiting. He'd run back up the trail to find me and to get some extra mileage (over 30 miles for the day, I think). We jogged back in where we took a much needed dip in the creek with beers in hand!
This was a great run with a really great group of people. Except for Steph and Eric, I had never met the other folks in our group. I was very nice to get to know them and to spend a day running with them. The Four Pass Loop really is a Colorado classic trail run. If you have the endurance for a 29 mile run with about 9000' of gain, I highly recommend it!
Splits
| | | |
| --- | --- | --- |
| Location | Time of Day (MDT) | Elapsed Time (hh:mm) |
| Start | 4:39am | 0:00 |
| West Maroon Pass | 7:04am | 2:26 |
| Frigid Air Pass | 7:45am | 3:06 |
| North Fork River crossing | 8:49am | 4:10 |
| Trailrider Pass | 10:34am | 5:55 |
| Snowmass Lake | 11:14am | 6:25 |
| Buckskin Pass | 12:37pm | 7:58 |
| Finish | 1:36pm | 8:55 |